Our website will be undergoing essential maintenance from 9am on Friday,  21st of November for a short period of time. Please avoid completing any online forms during this time. Apologies for any inconvenience this may cause.
23 September 2019
| | 3 min read
Chi Onwurah MP gets 'Inspired' by workplace health and wellbeing at a Newcastle call centre
This year, (2019) the Better Health at Work Award (BHAWA) celebrates a fantastic ten years of making north east workplaces happier and healthier with its 'Big 10'. Part of the celebrations include showcasing the progressive and innovative work being done by our local workplaces.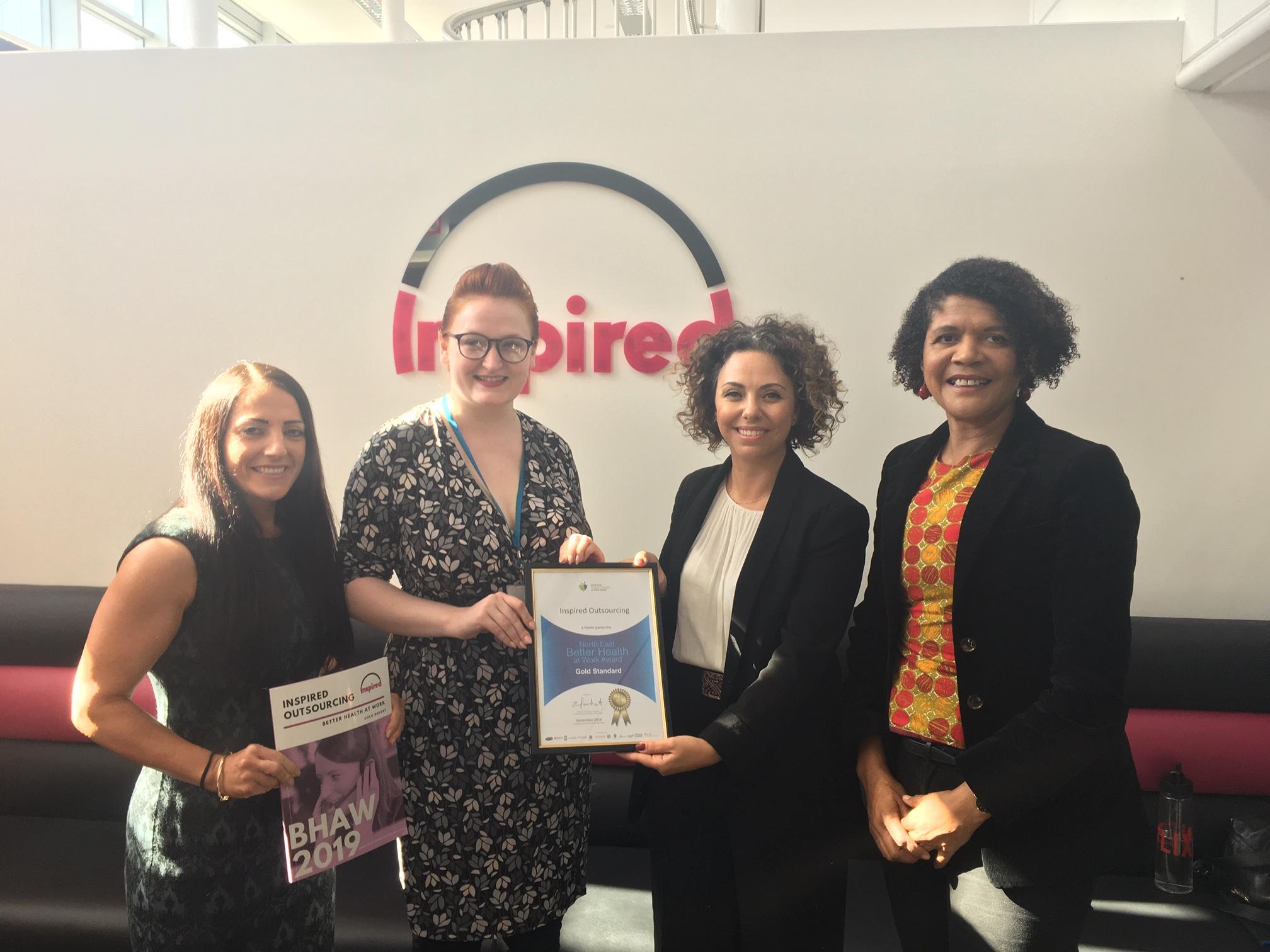 Newcastle central MP, Chi Onwurah, visited local independent call centre, Inspired Outsourcing, on Friday 20th September to see the huge difference investing in workplace health and wellbeing has made to the organisation and its 100-strong staff.
Chi heard how, through their BHAWA activity they were positioned at number 20 in the Sunday Times Top 100 small businesses list for 2019.
Inspired Outsourcing began their workplace health journey by joining the Better Health at Work Award in 2016 when they signed up to the Bronze level.  Since then, they have embraced every aspect of the programme, adapting policy, procedure and practice to make their workplace and workforce happier and healthier. 
This year they have completed the Gold level of the Award, which saw them deliver workplace campaigns on: alcohol and drug awareness, smoking cessation, physical activity, healthy eating and mental health – the five main areas identified by staff as topics they'd like more information on.  As always, Inspired took a proactive, creative and engaging approach to these topics with amazing results.
Now, 50% of staff are members of a nearby gym thanks to the negotiations of the in-house Health & Wellbeing team to get a discounted rate, and in the name of integrating physical activity into the working day they've trialled standing desks, under-desk steppers and even done a Conga-line through the office to mark National Walking Day!
The company now has an on-site smoking cessation advisor, slimmer's club and one of the Senior Management team is regularly in their staff kitchen making healthy and tasty meals for those on-shift.
The positive workplace culture is also now underpinned with the Senior Team having undertaken training on mental health and the establishing of a new partnership with a dedicated local counselling service who can offer same-day support for staff who need it.
Councillor John-Paul Stephenson, cabinet member for Neighbourhoods and Public Health said:  "I would like to congratulate the Better Health at Work Awards on its 10th anniversary and say a huge well done to the teams, businesses and individuals that have benefited from the scheme.
"Newcastle City Council are pleased to have supported the Better Health at Work Awards and it has been a valuable tool to help engage with businesses, both large and small, across the city. Our Newcastle Can campaign, featured on the BBC show Hugh's Fat Fight, saw huge success when engaging with businesses and many workplace teams signed up, pledged to lose weight and came together to eat healthier and move more. These challenges and lifestyle changes can often be much easier if you take them on alongside work colleagues and friends.
"Healthy and happy workforces help to create productive employees and high-quality business. I wish the Better Health at Work awards continued success as it builds on its first 10 years."
Check out the delicious food being prepared in Kev's Kitchen! 
Healthy Lunch Club - Meat Free Monday
dedicated local counselling service who can offer same-day support for staff who need it.
Chi Onwurah, MP for Newcastle Central said: " Our workers are the life-blood of the local economy, so ensuring their experience of work is a positive and fulfilling one is paramount.  I am very proud to represent a city – and region -  that has committed to investing in supporting health and wellbeing at work long-term.  Inspired Outsourcing are proud to have  embraced the BHAWA from the outset and it is clearly paying dividends for their staff and the business; the passion and dedication from the health & wellbeing team is evident and reflected in the fantastic staff morale and involvement."
Beth Farhat, Northern TUC Regional Secretary said: "A decade of creating good work and a healthier region is a real achievement and we should be extremely proud that the north east has led the way with a partnership approach and developed a real flagship programme to be proud of.
Employers like Inspired Outsourcing really demonstrate the reciprocal benefits investing in and involving workers has on the workplace and workforce.  Good work and quality jobs are the cornerstone of a healthy region and healthy economy."
Kevin Hutchinson, Director at Inspired Outsourcing said: "As a small business the health and wellbeing of our employees is vitally important. Encouraging our workforce to lead a healthier lifestyle has had huge benefits.
Attendance has improved, our team are more energetic and motivated, and it goes without saying that the feel-good factor in our office has been worth all of the hard work. We're really proud of the team who have embraced some significant changes around diet and nutrition, exercise and their attitudes towards smoking and alcohol."
Healthy and happy workforces help to create productive employees and high-quality business. I wish the Better Health at Work awards continued success as it builds on its first 10 years.
Councillor John-Paul Stephenson
Cabinet member for Neighbourhoods and Public Health