13 July 2020
| | 3 min read
Litter louts warned as council enforcement officers return to their beat
Litter louts are being warned they face prosecution or penalty notices as Newcastle City Council cracks down on a rising tide of rubbish as lockdown eases.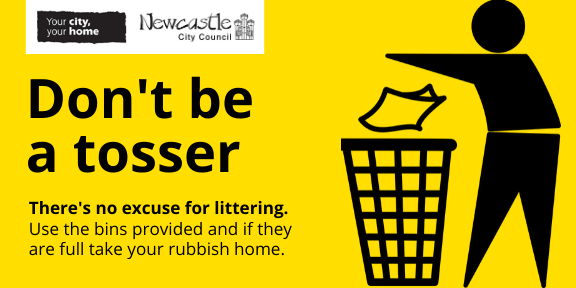 From late March, as most people stayed at home and the amount of litter on the city's streets dropped dramatically, Newcastle City Council redeployed some enforcement staff to deliver food parcels to the vulnerable.
But now all officers are back on the beat handing out face-to-face tickets for residents who fail to bin their waste or take it home.
Cllr John-Paul Stephenson, cabinet member for environment and regulatory services, said: "Litter is a blight on our communities and there is no excuse for dropping it.
"We know the public hates fly-tipping and litter as much as we do as not only does it make our city look shabby, it damages the environment and diverts funds that could be better spent on other, more worthwhile services.
"During lockdown, while continuing to ensure public health regulations were followed, tackling flytipping, and dealing with a 500% increase in complaints about bonfires, our enforcement team also helped to support the fantastic work of our Citylife line, which has helped some of our most vulnerable residents through this hardest of times.
"But, with more people returning to our streets and parks, particularly in areas like the Quayside and Ouseburn, and the levels of litter unfortunately increasing, they are all back to their usual roles.
"They will not hesitate to issue penalties to those who fail to respect our city by not binning their rubbish or taking it home."
Littering is a criminal offence under section 87 of the Environmental Protection Act 1990.
It can lead to fine of up to £2,500, but in many cases the offender will be given the option of paying a fixed penalty of £75 and avoiding prosecution.
However, if the person is uncooperative, for example unwilling to give their name and address, they may be referred directly to the magistrates' court.
Even with some officers diverted to carry out other tasks Newcastle City Council has prosecuted 22 people for waste offences in the last three months.
That comes on the back of the success of the authority's Your City, Your Home campaign which in 2019 set out to work with communities to cut the thousands of tonnes of rubbish illegally discarded.
In its first year the campaign saw a more than 3,500 people issued with fixed penalty notices or prosecuted, and a more than 14 percent reduction in the amount of rubbish dumped – equivalent to the weight of over 13 Metro trains.
"Thankfully the message is clearly getting through that we will not tolerate littering in Newcastle," Cllr Stephenson said.
"We would remind everyone of their personal responsibility to dispose of their rubbish properly – If there is not a public bin nearby, or you arrive at a bin that is already full, please take your rubbish home. Help us keep our city clean by doing your bit."