21 November 2023
| | 3 min read
Leader's blog - November 2023
Welcome to the first instalment of the Leader's Blog, a new regular update from Cllr Nick Kemp, Leader of Newcastle City Council.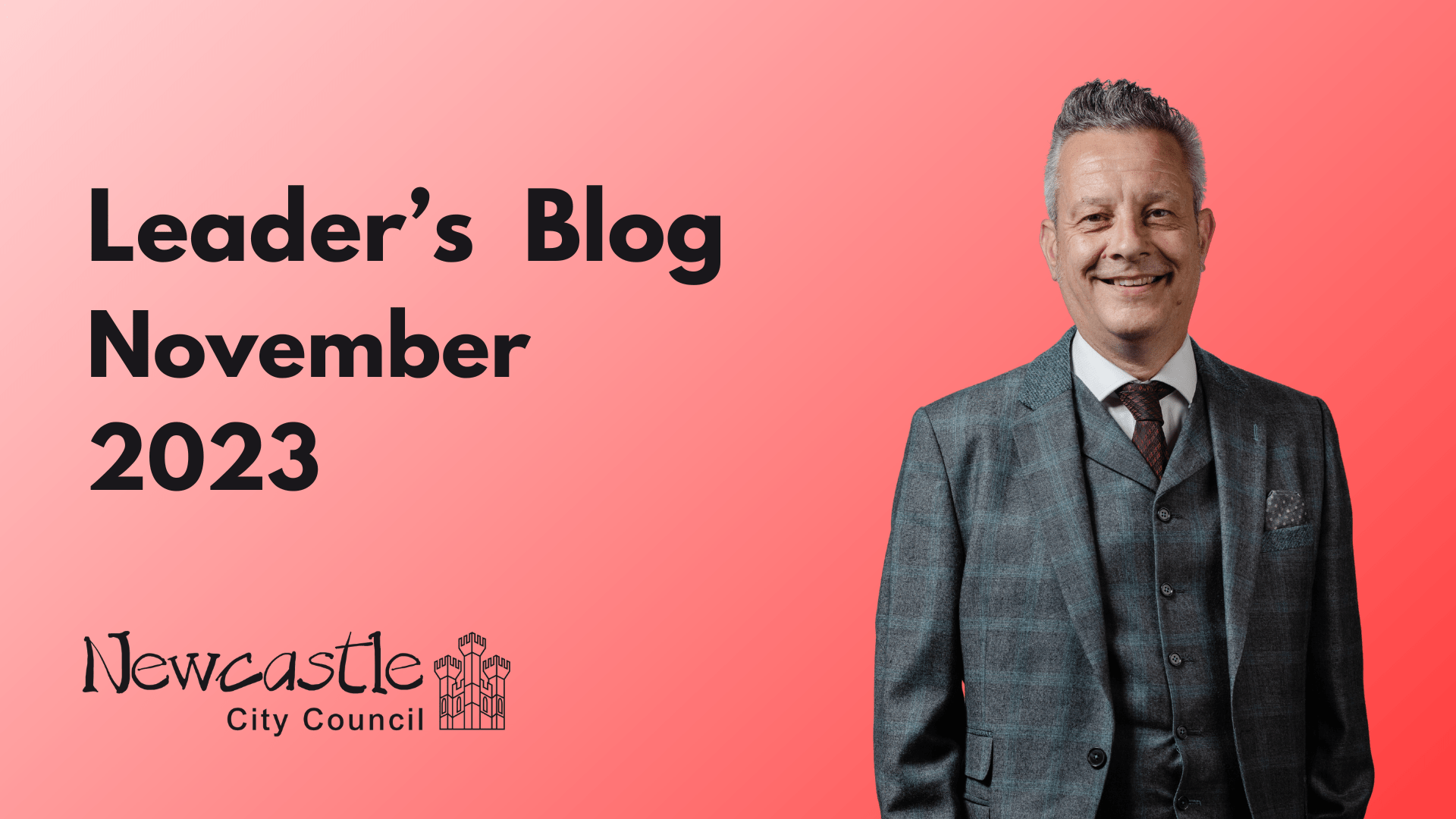 As is always the case, this is a time of year that we all use for reflection and I was incredibly proud to be part of Newcastle's Remembrance Sunday service earlier this month. The respect and gratitude shown towards our armed forces, past and present, was impeccable. My thanks go to everyone who came together to pay their respects, whether it was at Old Eldon Square, at the other services that were being held, or even through your own private moment of reflection.
I also send my support once again to my council colleague Cllr Jason Smith. This month is Pancreatic Awareness Month, and the meeting of the council at the beginning of November saw one the most emotional exchanges the chamber has ever seen. Cllr Smith shared his personal story of being diagnosed with pancreatic cancer; there was barely a dry eye in the house. He's certainly doing his part to raise awareness of the disease, and I'm pleased to say the council has also been highlighting this deadly cancer this month to help people spot the signs.
The year has flown by and with winter just around the corner, the city's attentions will quickly be turning towards the festive season. It was brilliant to see the huge numbers of people turning out to see the Christmas lights switch-on, the popular Christmas market championing local traders is now open, and the traditional Fenwick window has been revealed. It's certainly beginning to look a lot like Christmas in Newcastle.
On the theme of celebrations, there has been some great success stories for some of the city's best-known names in recent weeks. Newcastle International Airport has been named airport of the year, Northumbria University has been named as one of 12 Centres for Doctoral Training in Artificial Intelligence, and the Centre for Life has been rated as England's best visitor centre. It's fantastic to see these organisations and so many others across Newcastle doing great things for our city.  I set out very clearly under my leadership that we would adopt a collaborative approach, developing meaningful partnerships and these are delivering real value for the city.
We know the cost-of-living crisis has not gone away and this time of year brings increasing challenges for many people across the city.  Our winter warm zones established last year continue to provide valuable support to many, and we have acted decisively as a Council to support those on the lowest wage, because we believe fundamentally the right of everyone to receive a wage.  So, I'm delighted to celebrate the difference being made in the city as we carry on our journey to make Newcastle a real living wage city. At the council, we've increased the pay of our lowest-paid colleagues ensuring they receive a real living wage of at least £12 an hour. It gives me great pride that so many other employers are doing the same, with as many as 50,000 employees in the city now receiving a level of pay that helps people do more than simply survive. The cost of living continues to present huge challenges, but Newcastle is doing everything it can to support its residents.
Thank you,
Nick