21 September 2022
| | 3 min read
Hundreds of jobs on offer at Newcastle recruitment fair
Newcastle residents will be able to discover employment opportunities in the city at a recruitment fair taking place this month.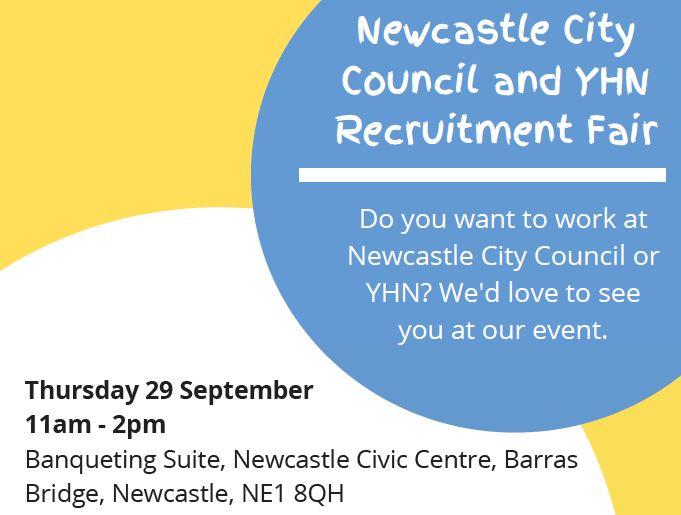 Newcastle City Council and Your Homes Newcastle are coming together to host the jobs fair where attendees will hear about a range of job opportunities which will allow people to make a difference in their own communities.
With vacancies across a variety of key services, including care services, libraries, democratic services, parking and bus lane enforcement, and much more, there are opportunities at different levels for people to discover.
It takes place at the City Library on Thursday 29 September from 11am to 2pm.
Cllr Alex Hay, Newcastle City Council cabinet member for a Resilient City, said: "We want everyone in the city to have access to quality employment and as a large employer in Newcastle, we want to open our doors and show people the opportunities available within our services.
"Working for the council or YHN is an opportunity to make a difference where you live, and we're looking forward to welcoming people to our recruitment fair at the Civic Centre.
"There are a variety of roles to be discovered for people with all sorts of levels of experience. If you are looking for work, this could be a fantastic opportunity to find a new career in Newcastle."
Tina Drury, group managing director at YHN, said: "We are keen to help people not only make a difference in their city but to their own lives and we are passionate to give these opportunities at YHN and NCC.
"In these uncertain times, it is great to be able to support people to find employment and highlight the wide range of opportunities available to them.
"We hope as many people as possible take this opportunity and attend the jobs fair."
Recruitment managers will be on hand to talk to prospective applicants on the day, while there will also be support organisations in attendance to help people with applications and interview preparation.
To book your place and for more information contact the YHN Employability Team at employabilityteam@yhn.org.uk or call 07814 753088.