27 June 2023
| | 4 min read
Council leader takes stock of first year in office and looks ahead to the future
Cllr Nick Kemp was appointed as Leader of Newcastle City Council in May 2022. Here he reflects on the achievements and challenges of his first year in post and looks ahead to future of the city.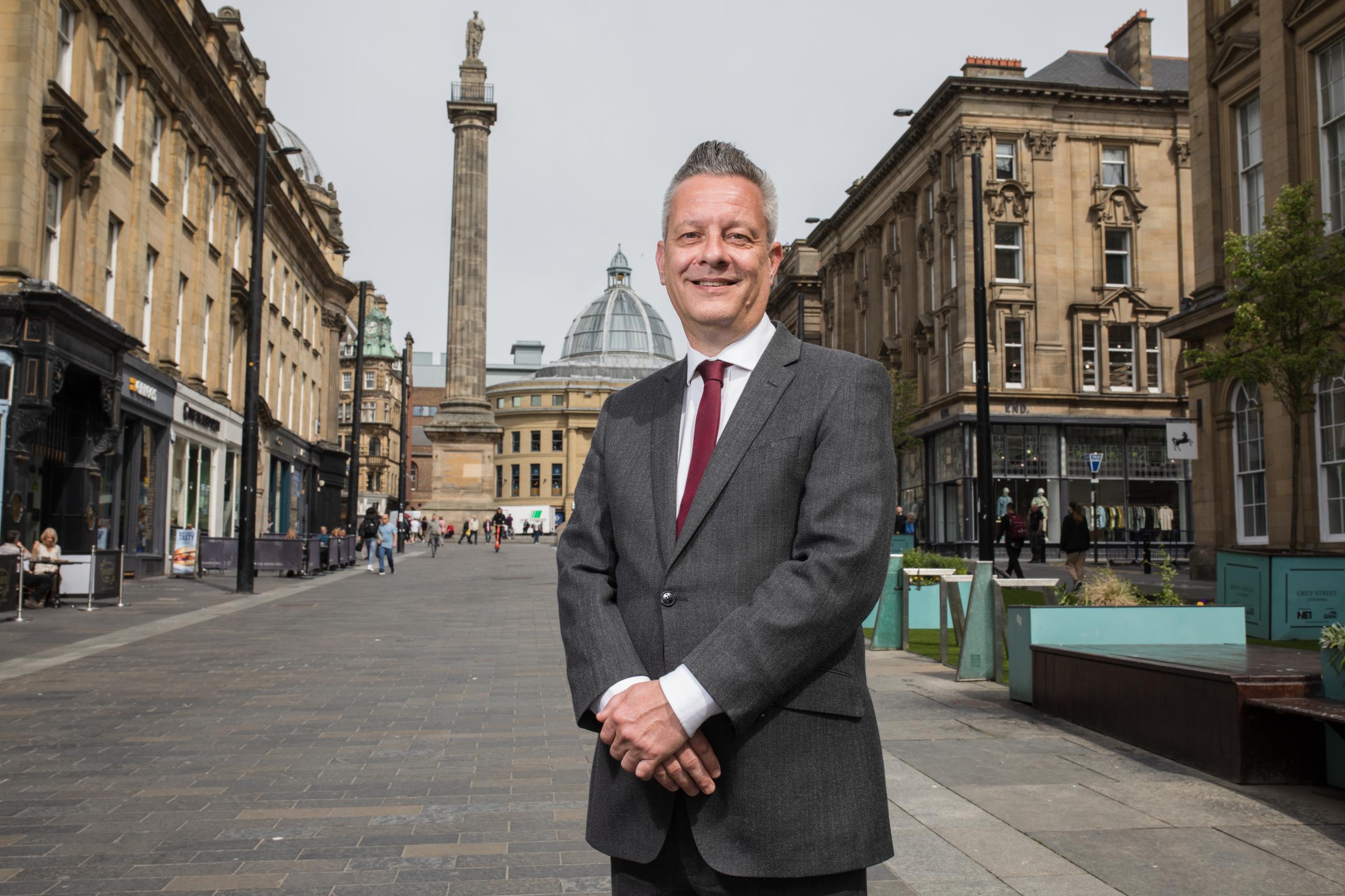 Being elected as leader of the city I love and the place I proudly call home remains one of the proudest moments of my life.
My cabinet and I took up our positions at an incredibly challenging time. War in Ukraine had had broken out a few months earlier and prices of some of the most essential commodities were beginning to skyrocket. The cost-of-living crisis was becoming part of the everyday language, and more and more residents were feeling the strain and being plunged into poverty. Sadly, that continues to be the case.
We quickly put in place our priorities to tackle poverty, address the cost-of-living crisis and work towards achieving the council's target of reaching Net Zero carbon emissions by 2030.
In what is a relatively short space of time and armed with ever-dwindling financial resources, I could not be prouder of our collective achievements.
We have implemented a huge programme of initiatives to address these priority commitments at the same time as continuing to deliver the huge range of resources our residents depend upon us for. From Newcastle's incredible social care sector to our citywide refuse collection services, and from providing affordable housing to supporting the burgeoning cultural sector Newcastle is blessed to have, everything we have done and all we will continue to do is done with our residents in mind. Every decision we take is done so with our communities and our residents at the fore. They are the beating heart of the city, and we exist to do our very best by them to make sure everyone has the chance to reach their potential, regardless of where in Newcastle they live.
This will continue to be the case as we look ahead to the months and years to come. Alongside cabinet, I have also introduced a new priority to get the basics right. This is our renewed collective commitment to ensure we are doing everything that our communities expect of their local council. Providing efficient, value-for-money services that make a difference to the everyday lives of residents.
Cabinet members, clear with the visions of their portfolios, and myself remain united in our goal to make Newcastle a friendly, proud, inclusive city where everyone reaches their potential. We will continue to work alongside other members, council officers, our partners in the city and further afield and our residents to ensure Newcastle:
receives fair funding from Government,
develops into an inclusive city for everyone,
develops and promotes culture,
tackles health inequalities,
gives our young people the best start in life, and
has clean, green and safe communities for all.
While the challenges of cost of living and climate change continue to require our fullest attention, we must take pride in all that has been achieved over the last 12 months and take vindication from the results of our collective efforts.
Cost of Living and Poverty
Tackling the record levels of poverty our region is facing has been a long-standing commitment, and while the cost-of-living crisis is relatively newer, it demands no less of our attention. We have unveiled a range of measures to tackle both and are already starting to see results as the number of young people living in poverty in Newcastle has started to fall.
One introduction has been our Anti-Poverty Strategy, which seeks to reduce poverty levels, prevent more people finding themselves in poverty, and campaigning for Government intervention and national change. I was also proud to launch the city's first ever Inclusive Economic Strategy last year, which aims to grow our local economy for the benefit of everyone, giving all our communities opportunities to succeed in life.
Our response to the cost-of-living crisis was rapid and vast. We launched a freephone telephone number, provided a guide to help direct residents to the support available, and set up a network of Winter Wellbeing Hubs to provide people with a safe and warm space to go to interact with others and find out about further assistance on offer.
These measures, alongside other support from council services, has had a significant impact. Residents have been supported to claim more than £20million in unclaimed benefits, millions of pounds of council tax reductions and exemptions have been approved, and nearly 10,000 children and young people have benefitted from free school holiday activity and food programmes.
It was incredibly important to us as a Labour administration that we acted quickly in recognising the challenges our own staff face and I am immensely proud that we became a Real Living Wage employer within the first 6 months of taking office.
Net Zero
Our commitment to achieve Net Zero carbon emissions has never wavered, and we have continued to invest in initiatives to builder a greener and more sustainable future for our city.
We have delivered nearly £30million of improvements to public buildings to significantly cut carbon emissions, secured £6.8m to install insulation and low carbon heating to a further 438 Council owned-homes and a further £4.1m for installation of insulation and low carbon heating to 120 private properties where the households are on low income, and committed to the North East Community Forest which aims to plant 35 hectares of new trees over the next four years.
I am acutely aware that the interventions of today need to meet the needs of the future, and that is where the bright young minds of the city's young people will be key. I was incredibly proud to host our Youth Climate Summit last summer, understanding what changes and improvements our young people want to see to safeguard their futures.
Getting the Basics Right
We want to ensure our residents can access the services they need so our communities can thrive and have the building blocks to live happily and successfully. By applying this simple, fundamental principle to all our decision making, we will ensure that our actions have the greatest impact for the most people.
This isn't to say it is something we don't already approach with the upmost seriousness, but we want to listen to and work with our communities to deliver services we can all be proud of.
Newcastle City Council has completed 469 affordable homes since 2020 and facilitated a further 561 private developments of affordable homes. We've prevented more than 4,300 cases of homelessness in the city, invested £1.2m into new neighbourhood services, achieved 99.9% and 99.7% successful green and blue bin collections respectively, and this year, we're on course to improve on the 4,259 tonnes of fly-tipped waste we recovered and disposed of in 2021/22.
A lot can happen in a year and I'm pleased with how much my cabinet and I have been able to achieve in that time. I'm incredibly proud in my role as custodian of this fantastic city, and I look forward to the next year and more, working with our communities, to create the best Newcastle we possibly can.