27 April 2023
| | 2 min read
Council energy efficiency project wins top regional award
A project to reduce energy bills for hundreds of residents in Newcastle has scooped a top industry award.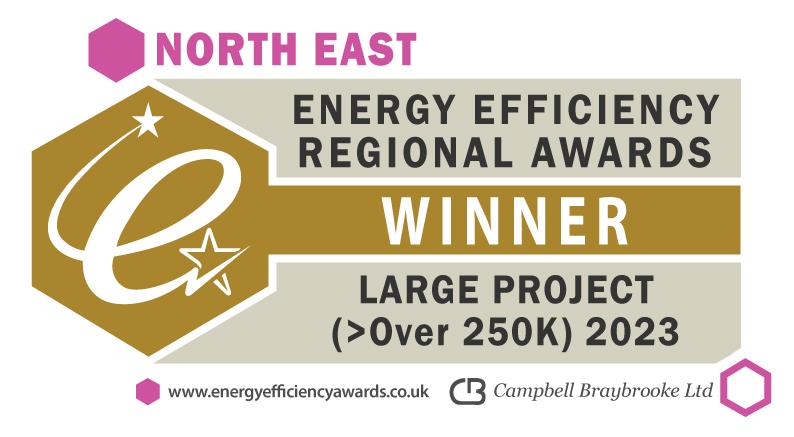 The project by Newcastle City Council, in partnership with Your Homes Newcastle and EQUANS, scooped the award for Regional Large Scale Project of the Year at the recent North East Energy Efficiency Awards. 
The project completely removed the gas supply from Denton Park House and Hilltop House in West Denton as part of a £5.5m project to replace the old gas-powered central heating system with Ground Source Heat Pumps (GSHPs).
Ground Source Heat Pumps have lower carbon emissions than traditional gas systems and are more efficient to run which means customers in these blocks will benefit from lower energy bills, which is incredibly important as energy costs are increasing for everyone.
The new system also comes with a smart thermostat from Switchee which allows residents to control their heating with precision, meaning that heating and hot water is matched to the way that they live.
Michelle Percy, Director of Place, Newcastle City Council said: "It is fantastic that our work to make homes in the city more energy efficient has been recognised by these awards.
It is a key priority for us to reduce our carbon footprint and this project is just one of the ways we are making homes warmer, more cost effective for our residents."
The award recognises one exceptional project where energy efficiency measures of more than £250,000 have been installed.
The award also acknowledges the efforts of all those involved locally in delivering a successful large scale energy saving project, while maintaining excellent customer service that demonstrates a high standard of quality workmanship throughout the project.
The council were also commended in the Regional Council or Local Authority Body of the Year category for its Electrification of Heat project which installed over 300 heat pumps into a range of residential properties.