17 March 2021
| | 3 min read
Council releases initial report on bridges closure consultation
An interim report on the findings of a public consultation on the closure of five local bridges to vehicles is released today (Wednesday 17 March) by Newcastle City Council.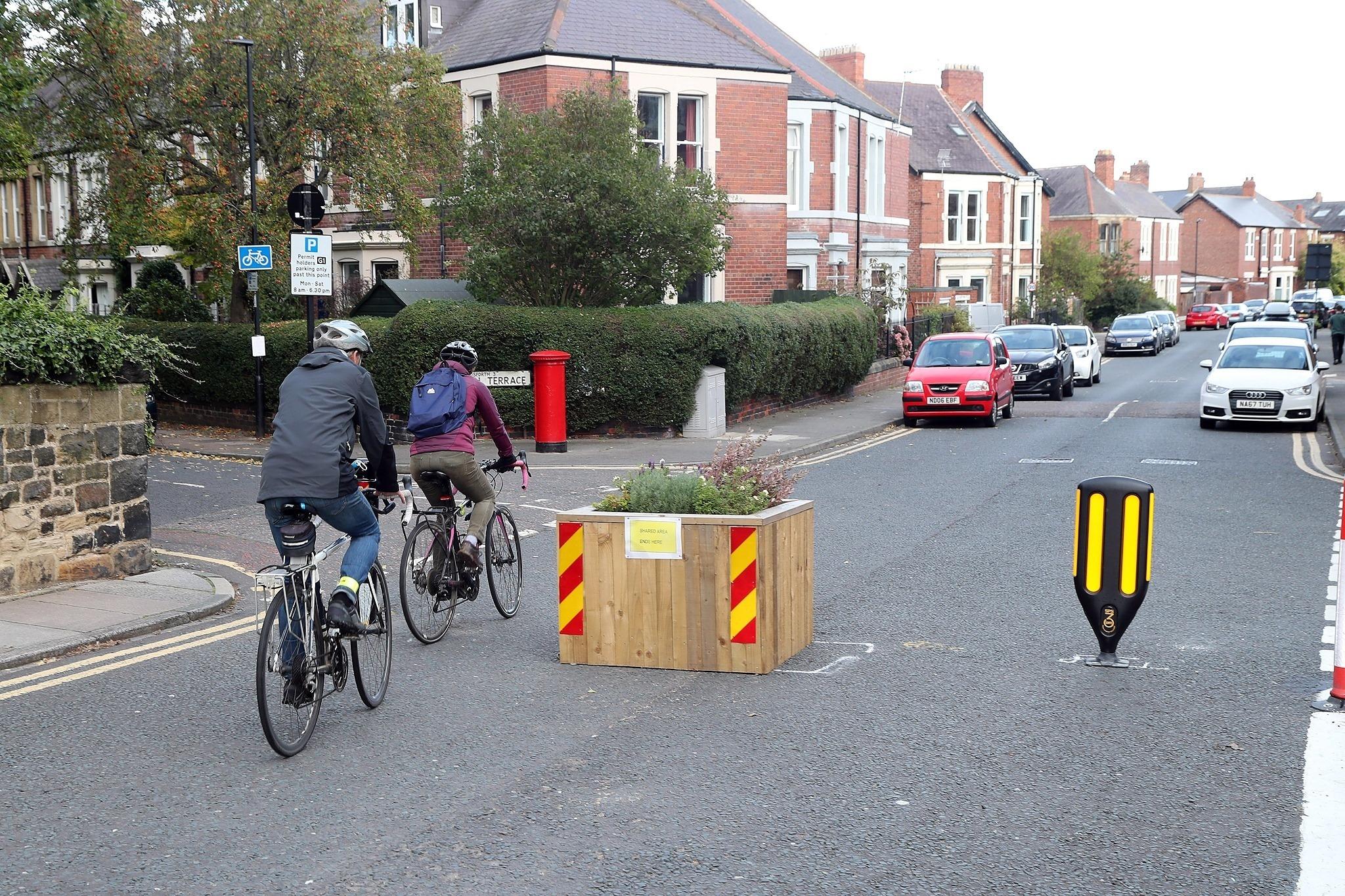 Vehicles have been restricted from using Salters Bridge in Gosforth, Castle Farm Road next to Jesmond Dene, Haldane Bridge in South Jesmond, Argyle Street bridge in Ouseburn, and Stoneyhurst Bridge in South Gosforth since last August, as part of the council's commitment to reduce traffic in local areas and create more liveable neighbourhoods where people are prioritised over cars.
Using Experimental Traffic Regulation Orders (ETROs), the council re-allocated the road space for people walking and cycling, in part due to the many schools and amenities in the local areas and the environmental and health benefits this brings. Under ETROs, public consultation must take place within the first six months of the closure, although the changes can remain in place for up to 18 months with a decision needed in that time.
The public consultation generated a considerable response and the council are keen to stress that the consultation isn't a referendum based on numbers for or against, but on gathering the public's feedback and experience of the closures.
The interim report, written by an independent researcher, sets out the findings from the consultation, which generated over 42,000 contributions about the closure of the five bridges to vehicles via all consultation channels, including the public consultation site on Commonplace.
A further 3,385 contributions were received via social media and Let's Talk Newcastle. Over 1,000 contributions were received via a petition and a Liberal Democrat Councillor conducted independent survey - relating specifically to Stoneyhurst and Dene bridges. The vast majority of people gave their views to the consultation only once. Though in relation to the closure of the bridge on Stoneyhurst Road, a small number of people made multiple representations.
Key findings from the public consultation include:
Argyle Street Bridge
The closure of Argyle Street Bridge to motorised traffic was felt to be largely effective in supporting walking and cycling, with a majority of responses across both the formal ETRO correspondence and online Commonplace contributions feeling that this closure to motor vehicles should remain in place permanently

.
Dene Street Bridge
The closure of Dene Bridge to motorised traffic was also often felt by many who took part to be effective in supporting walking and cycling, with a majority of responses across the online Commonplace contributions praising the closure and suggesting that this closure should remain in place permanently. ETRO responses were slightly less positive, with a majority opposing the closure of the bridge to motorised traffic though it should be reflected the number of representations for each position was very similar.
Haldane Bridge
The closure of Haldane Bridge to motorised traffic attracted a mixed response. Felt to be largely effective by a small majority of ETRO responses, it was felt to be less effective across the online Commonplace contributions.
Salters Bridge
The closure of Salters Bridge to motorised traffic also attracted a mixed response. It was felt to be effective by a small majority of those who submitted formal ETRO responses, it was felt to be less effective across the Commonplace contributions.
Stoneyhurst Bridge
The closure of Stoneyhurst Bridge to motorised traffic attracted a notably more critical response than any of the other bridges. Both formally, and online the majority of responses to this consultation were critical of the closure to motor vehicles and believed the bridge should be reopened to vehicles.
In the majority of the consultations people only contributed one written response. However, in the consultation about Stoneyhurst Bridge a number of people chose to make repeated representations. In this consultation for example, the three people who responded to the formal consultation the most, were collectively responsible for 13% of the 362 written representations (46 formal written responses).
At a high level, the different comments and concerns raised are explored in the summary report and a more in-depth report is being prepared for each bridge. This will help to inform the long-term decisions on the future of all bridges.
Cllr Arlene Ainsley, cabinet member for transport and air quality said: "We would like to thank everyone who took part in the consultation. As we have said previously, this isn't a referendum on whether or not to keep the bridges closed or where only the loudest voices are heard.  There are many more factors that need to be considered.
"A lot of the negativity towards the schemes have been about people feeling inconvenienced, but we need to look at the bigger picture. This is about creating more liveable neighbourhoods that are people-focused, as we have set out in our ambitious plans for the city centre, and reducing polluting traffic on our local streets is a key part of this.
"With less traffic cutting through local streets, neighbourhoods are much safer and attractive places for the people who live there, for children to play, and this also encourages more people to walk and cycle on short local journeys - which is crucial to clean up our air and meet our net zero carbon targets.
"The feedback from the public is incredibly important in developing more liveable neighbourhoods – where people are prioritised over traffic. People have taken the time to tell us their views and it's really important that we listen to what they've said and review this thoroughly before making long-term decisions. We expect to be in a position to do this from late-May onwards.
"Through the bridge closure programme, we have set out our clear commitment to reducing traffic in local areas - creating cleaner, greener and safer neighbourhoods and we look forward to expanding this programme to other areas of the city."
None of the fake accounts and comments identified last month on the independent consultation platform have been included in the report.
The bridge closures will remain in place while the council conducts a full review of the public consultation, as well as considering other factors such as traffic levels on surrounding streets, air quality, traffic speeds, how many people have been using the bridges for walking and cycling, air quality where monitors are in place, responses to the legal orders and feedback from statutory consultees, including blue light services, before making a final decision in the coming months.
Each bridge will be reviewed on an individual basis, due to the unique characteristics of each bridge and location, which may mean the long-term future on some bridges may be decided sooner than others.
An in-depth analysis on the consultation will be released alongside the final decisions which the council expect to start releasing from early summer.
An interim report of the consultation and ETRO responses are available below.
Safer Newcastle Bridges - Summary Report - March 2021.pdf