6 October 2021
| | 4 min read
Safer Streets fund supports big clean in Byker
Significant amounts of fly-tipped waster, litter, and overgrown vegetation has been removed from parts of Byker thanks to two week-long operations.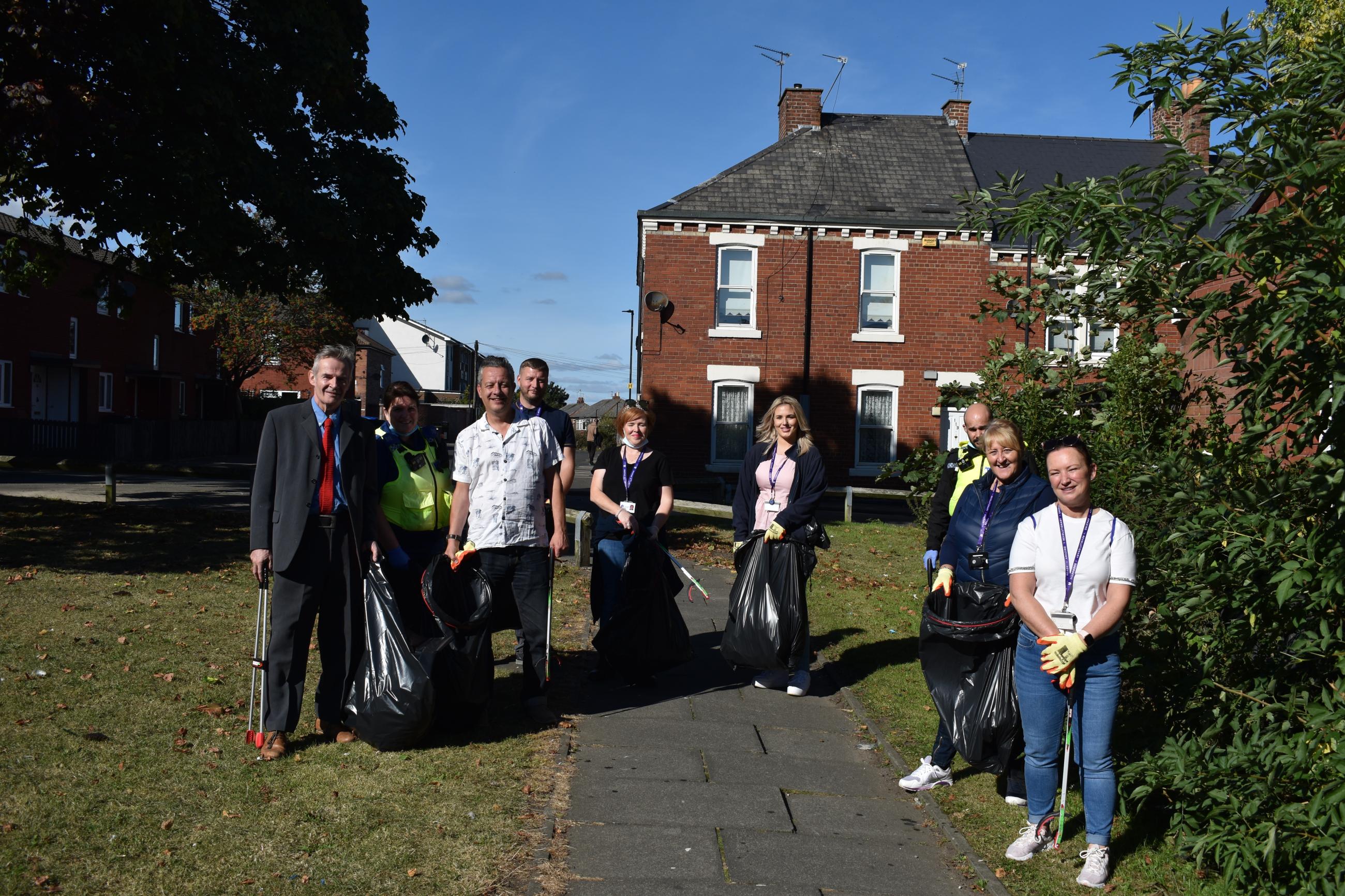 Carried out through the Safer Streets Fund, officers from Newcastle City Council and Your Homes Newcastle, supported by local councillors and other partners, visited the East End ward on two operations during September to help improve the look and feel of the area. 
Earlier this year, Newcastle City Council and the Northumbria Police and Crime Commissioner were awarded funds through the Home Office's Safer Streets fund. The money was allocated to help reduce antisocial behaviour, increase safety and visually improve two specific zones in the Byker ward. 
A number of community safety measures are planned over the coming months, but partners were keen to visit the area to make an immediate impact. 
Cllr Clare Penny-Evans, Newcastle City Council Cabinet Member for Climate Change and Public Safety, and Chair of Safe Newcastle, said: "Our application to the Safer Streets fund was about improving the quality of life and sense of pride in the community for residents in Byker, and already that is what's being done. 
"Our teams work tirelessly year-round to do their best for residents, but with this funding we are hoping to make lasting improvements in this part of the city. 
"Significant amounts of discarded rubbish and overgrown hedgerows have been cleared, pavements and car parks have been tidied, and we know from feedback from residents that this has been warmly received. We look forward to implementing further plans for Byker and I'm delighted with the start we've made." 
Newcastle City Council and YHN officers, as well as councillors, volunteers and other partners have attended multiple litter picks across two zones of Byker covered by the Safer Streets fund in recent weeks.
Byker litter pick - Safer Streets
Cllr Stephen Sheraton, on behalf of the Byker ward councillors, said: "I'm delighted that the Safer Streets fund awarded to Newcastle is being used to make lasting improvements in Byker.
"We are fortunate to have a fantastic community spirit and we want to harness that during the duration of this project to implement real change.
"This has been a great way to get started and it's clear from the responses my colleagues and I have received from residents that this is work is already having a positive impact in the ward."
Jen Vinton, Customer Services Director at Your Homes Newcastle, said: "All of our customers deserve to live in safe and well-maintained communities where they feel proud of their homes.   
"We know that working in partnership with colleagues across the city is the best way we can make real improvements to our estates so we are delighted to be involved in this project which has already made a massive difference to the local area."   
Northumbria Police and Crime Commissioner, Kim McGuinness, said: "Byker has a great community spirit and this work is about making improvements so Byker can be its very best. It's a great first step of many Safer Streets funding plans that we have. It's so important to maintain safe, family-friendly, usable public spaces.  
"We all know how anti-social behaviour can have a really negative impact on a local community so any initiative to help keep levels down and build up some community pride is worth putting time and effort into. Anything that improves lives and prevents crime gets my support." 
The Home Office's Safer Streets Fund first launched in 2020 with £25million made available to Police and Crime Commissioners across England and Wales. 
The funding award for Newcastle came from a second round of Home Office funding. Newcastle has been awarded £431,967 through the fund. 
A range of partners, including the council, police, YHN, Northumbria Police and Tyne and Wear Fire and Rescue Service will work together throughout the duration of the project in Byker, which has been found to be disproportionately affected by burglaries and other crimes compared to other parts of the city.