8 September 2022
| | 3 min read
Newcastle to host celebration of recovery
The achievements of people nationwide who are recovering from drug and alcohol addiction will be celebrated in Newcastle this month as the city hosts the annual UK Recovery Walk.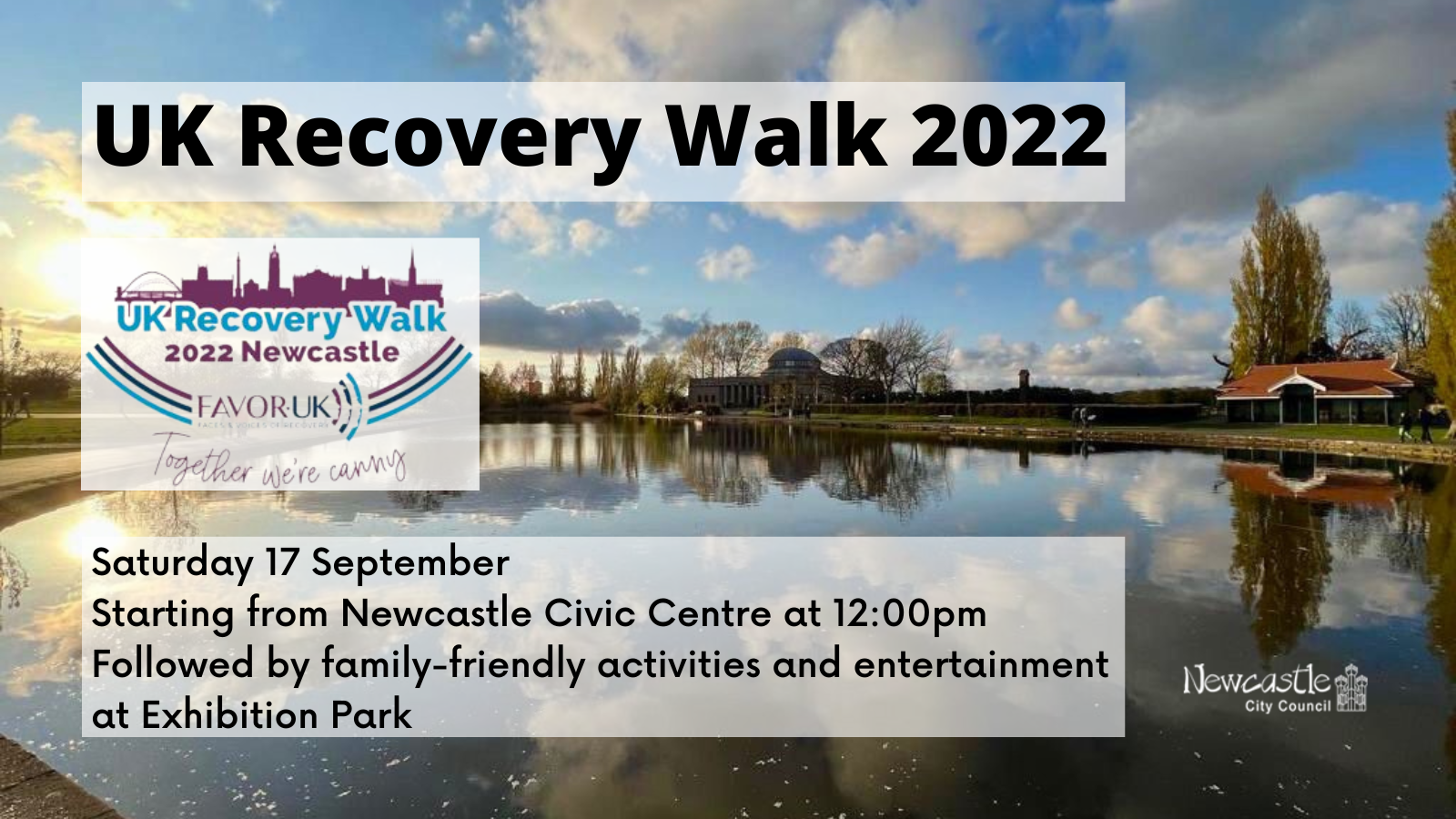 The city was originally successful in its bid to host the UK Recovery Walk before the Covid-19 pandemic, but the rescheduled event will take place on Saturday September 17.
Organised by Faces and Voices of Recovery (FAVOR UK), the walk is held every September as part of International Recovery Month. It celebrates those who are recovering from addiction and supports those in the earlier stages of their recovery journeys.
This year's event will begin from midday at Ceremonial Way in front of Newcastle Civic Centre, with the walk being launched by the Lord Mayor of Newcastle, Cllr Karen Robinson. The procession will then walk through the city centre, before reconvening at Exhibition Park where the celebrations will continue with a host of family-friendly activities.
Cllr Karen Kilgour, Newcastle City Council Deputy Leader and Cabinet Member for a Healthy, Caring City, said: "It is an honour for our city to host the UK Recovery Walk and make sure all those people – in Newcastle and across the country – are recognised for their efforts to turn their lives around.
"Drug and alcohol addiction can ruin lives, tear families apart, and have a negative impact on our communities. It takes an enormous amount of strength and support for people to move on and leave those behaviours behind them.
"We want people to live healthy and safe lives, and I'm delighted that we can come together to celebrate the fantastic achievements of so many people, and highlight that recovery is possible."
Annemarie Ward, Chief Executive Officer at FAVOR UK, said: "Finally we get to welcome everyone to the 14th UK Recovery Walk. It's been far too long since we saw each other and had the hugs we all need to stay connected, and we can't wait to see everyone from across the UK celebrate with us in the wonderful city of Newcastle.
"We will together continue to celebrate recovery and make recovery as visible as possible. We will remain visible, vocal and valuable on yours and your families' behalf and we will always promote the message that there are many pathways to recovery, and that all are a cause for celebration."
The council, working with FAVOR UK and partners in the city, would like to invite anyone to attend the UK Recovery Walk and celebration afterwards. At Exhibition Park, there will be a host of local food vendors, a stage with live music and speakers, activities for all the family, a wellbeing village, recovering meetings, sporting events and much more.
Read more at https://www.facesandvoicesofrecoveryuk.org/2022-recovery-walk/