20 January 2023
| | 3 min read
Newcastle children's health behaviours examined in citywide survey
Fewer children in Newcastle are engaging with harmful substances such as drink, drugs, and tobacco compared to previous years, a study into young people's health and behaviour has found.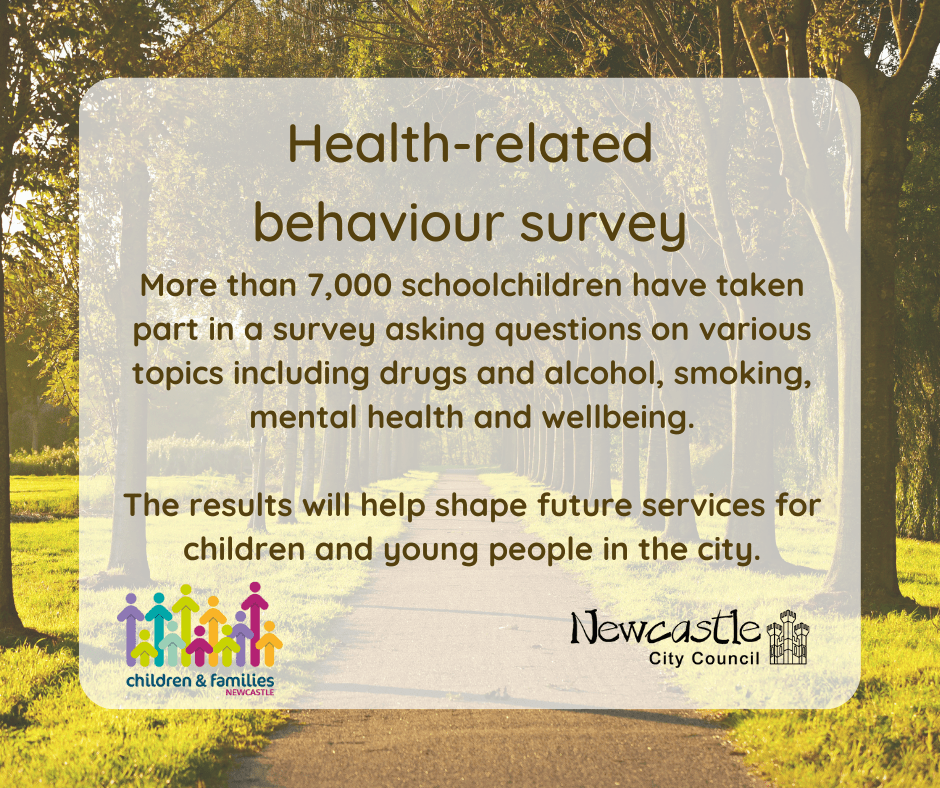 These are among the findings of a survey of 7,396 schoolchildren from 71 schools in the city, which will be used to support the Newcastle Healthy Schools Programme, personal, social, health and economic education planning in schools, and support the work of Children and Families Newcastle and Newcastle City Council's Public Health team.
The survey asked primary and secondary students aged between 8 and 15 years various questions on topics including drugs and alcohol, smoking, mental health and wellbeing, the impact of the Covid-19 pandemic, physical activity and nutrition, relationships and sexual health, and safety. The 2022 results were compared to surveys conducted in previous years
Findings of the survey include:
The proportion of pupils in year 6 who said they had consumed alcohol in the seven days prior to the survey was 0.5% in 2022, compared to 6% in 2011.
58% of secondary school pupils said they had never consumed alcohol at all, compared to just 26% in 2011.
The percentage of secondary school pupils who said they had never smoked increased from 69% in 2011 to 86% in 2022.
22% of primary school pupils said they had five or more portions of fruit and vegetables the day before the survey in 2011. This had increased to 33% in 2022.
In 2019, 20% of secondary school pupils said they had been offered cannabis. In 2022, this had fallen to 12%.
The survey also found fewer Year 10 pupils had been involved in a sexual relationship, with 10% saying they had in 2022 compared to 23% in 2011.
The survey also found a number of areas where there were declining trends in pupils' responses, with the city's schoolchildren saying they had visited the dentist less frequently than in previous years, while fewer young people knew where sexual health services were or how to access them.
Cllr Karen Kilgour, Deputy Leader of Newcastle City Council and Cabinet Member for a Healthy, Caring City, said: "The feedback provided from this anonymous survey is incredibly insightful into the health and wellbeing of children and young people in the city, and it allows us to see how young people's perceptions of life change over the years.
"From the data it's clear to see there are some real positives to take from this, as well as areas for improvement, but as a result we have a clear indication of what support and advice is missing from young people's lives and this will help us deliver better services to improve outcomes for schoolchildren.
"We want people to live long, healthy and happy lives in Newcastle and this is a fantastic resource to help us get things right for our young people at an early age."
Cllr Sylvia Copley, Newcastle City Council Cabinet Member for a Growing City, said: "As a council we're putting children at the heart of everything we do, and knowing what services do and don't work for them at present will help us revaluate our policies to ensure all children are given the best possible start in life and every chance to reach their full potential.
"I'd like to thank every school, child and young person that took part in the survey and we now look forward to learning from these findings."
This work will inform action plans for joint working between and within organisations involved in improving the health and wellbeing of pupils in schools. The data will be used to inform the planning of public health interventions to improve the health and wellbeing of children and young people in Newcastle and to support the work of Children and Families Newcastle – a collection of services and organisations working together to support to help young people and their families in the city.
The survey has been developed by the Schools Health Education Unit, is designed for young people of primary and secondary school age. The surveys have been developed over 30 years by health and education professionals, and over a million school children have taken part.
The full reports are available to read at Health Related Behaviour Survey | Services to Schools