20 June 2023
| | 3 min read
New library in the Outer West
The finishing touches are being put to a new library in the Outer West of Newcastle.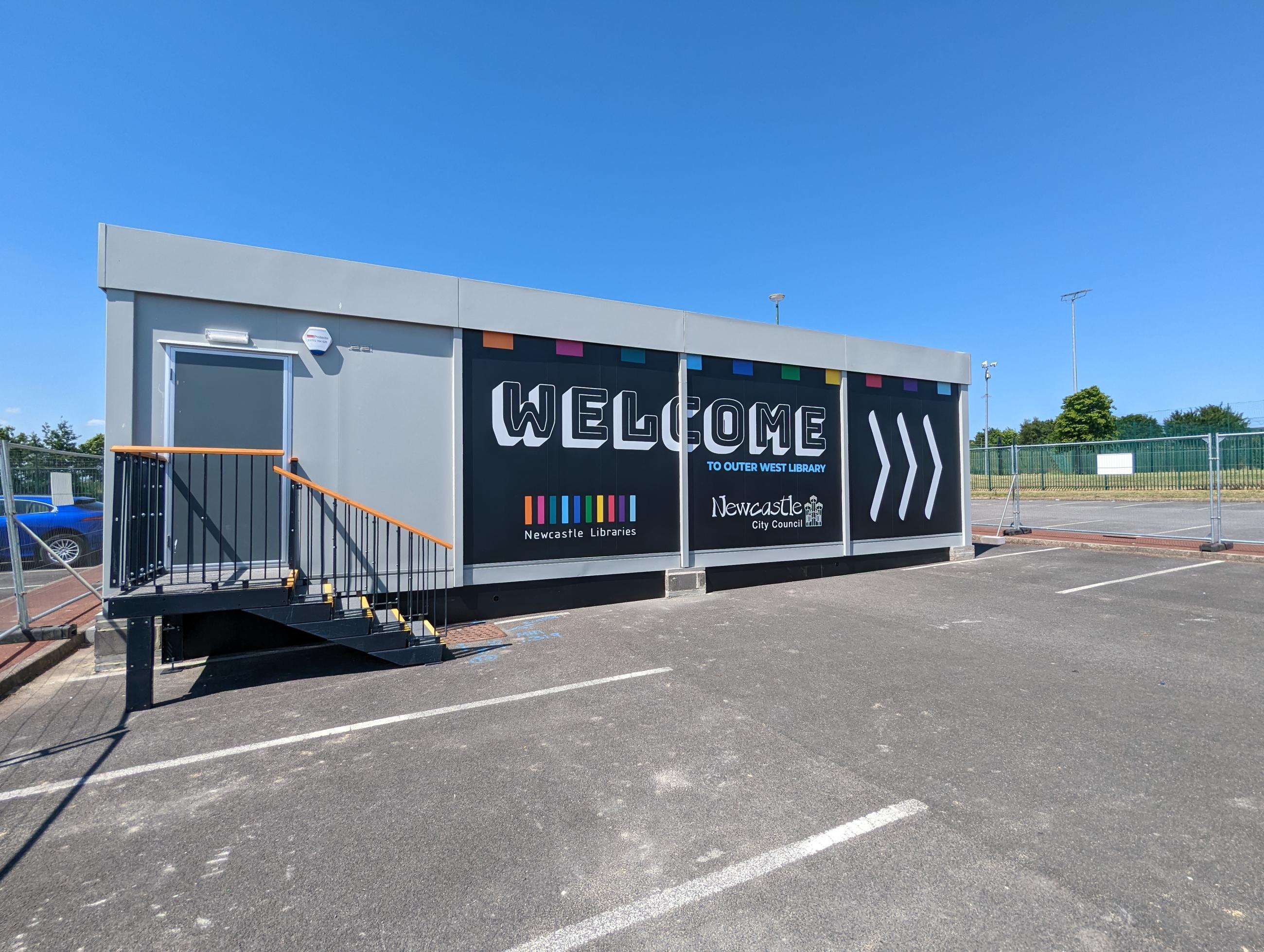 The temporary building is a replacement for the Outer West Library at West Denton which closed in May and is going to be demolished to make way for a new state-of-the-art £26m leisure centre and swimming pool complex.
The construction phase of the new temporary library – in a car park 100m behind the old library - has been completed and is about to be fitted out with shelving, a children's area, and a bank of computers with internet connectivity. It's hoped it will be open to the public by mid-July.
Newcastle's City Council's Cabinet member for a Resilient City, Cllr Paula Maines, who has responsibility for libraries and leisure, said: "It's great to see the new temporary library nearing completion.
"We know that residents will be missing their old library, but this new temporary library will continue to offer many of the services they want until a beautiful brand new library is opened as part of the new Outer West Leisure Centre which will have a café and lots more besides.
"This temporary library will house about 3,000 books, half a dozen public computers with free internet access and a children's area. It will be run by the same staff as the old library so users will be familiar with the same friendly faces.
"We hope residents enjoy using it until the new library is complete."
The library will operate until the new leisure centre, library and pools are opened to the public – expected to be by the end of 2024.
When its complete the new centre will boast a 25 metre eight-lane pool equipped for public swimming right up to galas, a learner pool, a splash pad or shallow area to acclimatise young children to water, a gym, steam room and sauna, sports hall, children's play area, electric charge points and landscaping.
The work is taking place after Newcastle City Council was successful in bidding for £20m of Levelling-Up money from the Government. Contributions are also being made by leisure operator GLL.
The council is also working closely with the Outer West Primary Care Network to make the building a centre for health and wellbeing, providing services and health related information for residents.
The new centre will be the first council-owned leisure centre and pool constructed in Newcastle for 23 years - since the East End Pool and Library opened in 2000. It is expected to be a showcase development not just for the Outer West but the whole of the city.