25 April 2023
| | 4 min read
Father urges people to be water aware in homage to his son
The father of a teenager who tragically drowned on a night out has welcomed the installation of 14 new throw-bags on the banks of the River Tyne.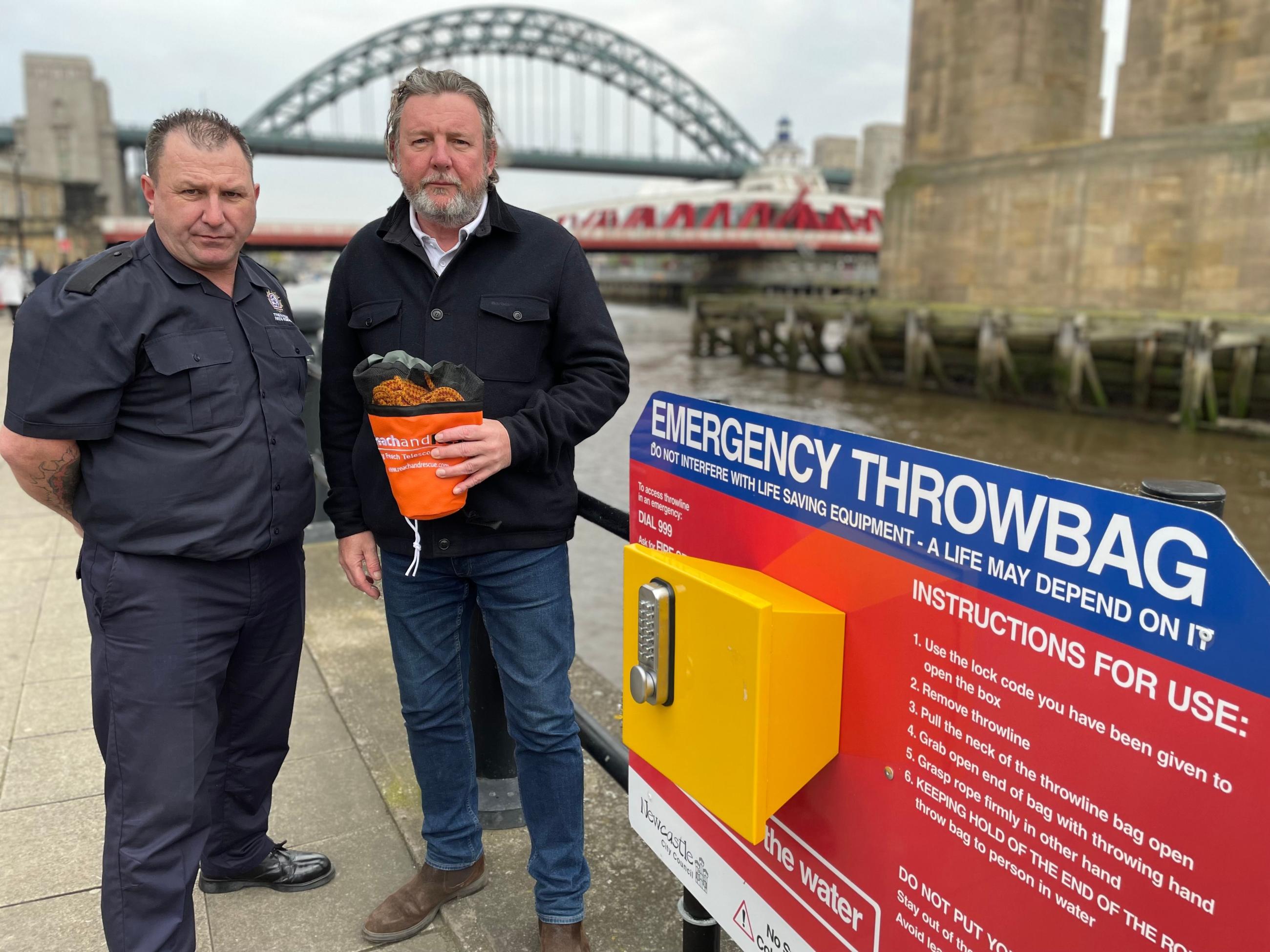 Nick Pope was left devastated in 2018 when his 19-year-old son Charlie heartbreakingly lost his life after a night out in Manchester.
The student, who was from Ponteland but studying in the city, was on his way back to his halls of residence when he lost his footing and fell into the water.
His devastated father Nick was determined to do everything he could to ensure other families did not have to experience the same grief.
The businessman has campaigned alongside Tyne and Wear Fire and Rescue Service (TWFRS) to deliver water safety advice to communities.
And now he has welcomed the installation of 14 life-saving throw-bags by Newcastle City Council along the busy Quayside, which saw an investment by the local authority of £10,500.
Each throw-bag is attached to a board and, if someone is in danger in the water, a member of public on the quayside would ring 999, asking for the fire and rescue service and will in turn be given a code to access the equipment.
They would then throw the bag to the casualty and pull them to safety, or at least hold them in position until the fire and rescue service arrived.
Similar equipment has already saved lives and has been driven by TWFRS in recent years as part of their Community Responder Scheme.
Today Nick, who has two other children, has praised the installation of the scheme at the beginning of the launch of the national Be Water Aware campaign today.
He said: "Awareness campaigns are so important to try and make sure it doesn't happen to other families.
"Everybody naturally thinks that they can come to no harm and that they will never end up in the water.
"You think to yourself, it only ever happens to other people and other families. We thought that, until it happened to our family.
"The one piece of advice I would give, is where you can, please avoid walking close to water on your way home.
"Choose another route. Even in Newcastle at the quayside on a night out, you don't need to be close to the water.
"If you do need to walk home near to the water, please make sure you are accompanied by someone just in case you get into difficulties.
"The throw bags initiative is incredibly important and impressive. It is already saving lives and people are alive today who would have died.
"It is also fantastic to see that the local business communities have got involved to be trained and to look after the people visiting their community."
Nick is a Managing Director at a manufacturing company, who lives in Ponteland with his wife, Andria. 
Charlie is survived by two siblings: a brother who lives and works in New Zealand and a sister who is studying in Japan. 
The NFCC's drowning prevention and water safety campaign, Be Water Aware, runs from Monday April 24th through until 30th April.
Throwlines were installed in Newcastle city centre earlier this year with the 14 boards stretching from the Redheugh Bridge to The Cycle Hub at Newcastle's Ouseburn.
TWFRS have been running throw-bag training with businesses across Tyne and Wear for nearly four years with hundreds of riverside business staff trained in how to use them.
They have spearheaded the introduction of more of the throw-bag boards and have today welcomed the investment by Newcastle City Council.
Group Manager Steve Thomas, Head of TWFRS's Prevention and Education Department, said: "Unfortunately our fire boat is called into action a number of times throughout the year when people become distressed in our waterways.
"The majority of times these are avoidable accidents where people have lost their footing and ended up in the water.
"Other times people have found themselves in the waterways under the influence of drink or drugs, which could culminate in tragic circumstances.
"These new throw-bags on the Newcastle quayside are a vital addition to the City's water safety and drowning prevention armoury.
"I want to thank the city council for their investment and I know that they have already started saving people's lives which is amazing!" 
Since the introduction of the wider throwlines scheme nearly four-years ago in locations across Tyne and Wear, seven people's lives have been saved. 
Christine Herriot, Director of Operations and Regulatory Services at Newcastle City Council, said:  "The safety of everyone in our city is our absolute priority and we're really pleased to be working with TWFRS on the installation and maintenance of these new throw lines.
"Of course we hope they are never needed, but these new pieces of life-saving equipment will help keep people safe if somebody does find themselves in the water.
"Unfortunately, the previous lifebelts were often subject to vandalism and theft, and we hope these new ones provide greater reassurance for people as they enjoy our spectacular Quayside in the unlikely event they are required in an emergency."
Be Water Aware Event:           To coincide with the Be Water Aware campaign TWFRS and our partners will be delivering a free event this coming Sunday (30th April) from 11am to 3pm on the Newcastle quayside near to the Pitcher and Piano.   
The confirmed organisations in attendance will be the Environment Agency, TVLB (Tynemouth Voluntary Life Brigade), RNLI (Royal National Lifeboat Institution), RLSS UK (Royal Life Saving Society), representatives from the North East Ambulance Service's Hazardous Area Response Team (HART) team, Northumberland and Tyneside Mind, and Newcastle City Council.
Nick Pope will also be present on Sunday to show his support for the event.
There will be live rescue demonstrations on the River Tyne by out fire boat team and the TWFRS fire cadets will be running the throw bag target challenge.
For further information about the NFCC's Be Water Aware campaign please visit www.nationalfirechiefs.org.uk/Be-Water-Aware