6 April 2023
| | 5 min read
Call to check on children's whereabouts over school holidays
Parents and carers are being urged to check where their children are going and what they are getting up to out of school following a small number of incidents in Newcastle city centre.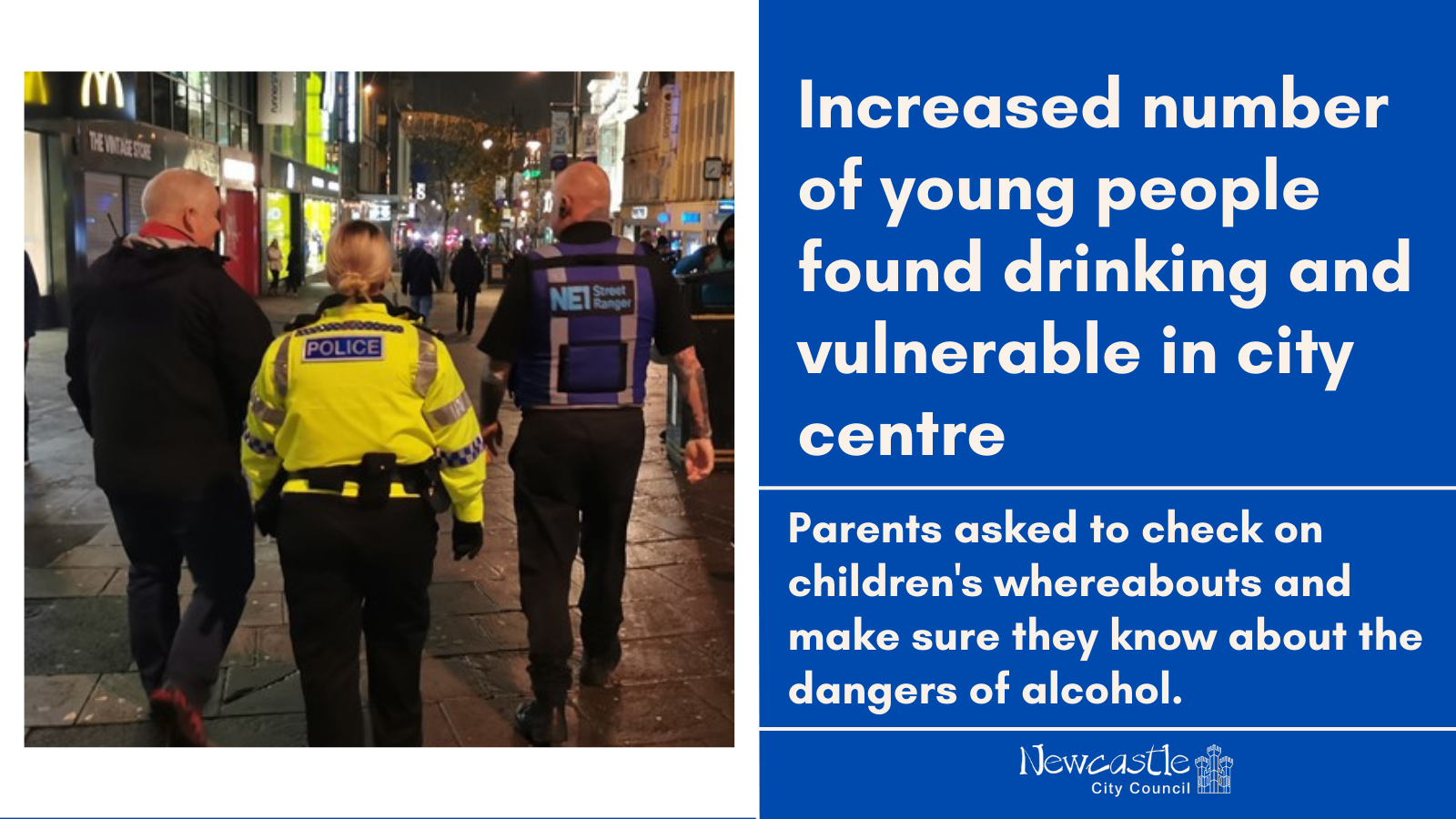 Officers from a variety of agencies operating in the city have noticed an increase in the number of young teenagers consuming alcohol in the city, often travelling from other parts of the region to meet up with friends in Newcastle.
On a small number of occasions, this has led to intoxicated children becoming isolated from their peers and being left vulnerable, while others have become involved in anti-social behaviour and criminal activity.
Christine Herriot, Director of Operations and Regulatory Services, said: "We know Newcastle is a popular destination for people of all ages to come and socialise, but we are becoming increasingly concerned with the number of young people who are coming to Newcastle with alcohol and becoming vulnerable as a result.
"As we approach the Easter holidays, we would ask parents and carers to speak to their children, make sure they know where they are and how they intend to get home, and make sure they know about the dangers of alcohol which can be particularly harmful to young people.
"We want Newcastle to be a safe and welcoming city where everyone can enjoy themselves and we know the vast majority of visitors are respectful of others, but we're keen to get on top of this trend before it becomes a bigger issue."
Newcastle City Council works with a multi-agency team of officers consisting of staff from the council, Northumbria Police and NE1. The team provides a uniformed presence in the city centre to reduce risk-taking behaviour, safeguard vulnerable individuals and challenge anti-social behaviour. It was launched following an increase in incidents, often involving young people from other parts of the region being under the influence of alcohol.
In some instances, they have been found to have brought alcohol concealed in pop bottles and consuming high-strength and sometimes highly-caffeinated drinks. Some have been taken into custody or escorted home by the police, while there have been instances of young people needing to be hospitalised as a result of the volume of alcohol they had consumed.
Inspector Karen Madge, of Northumbria Police, said: "Over any school holiday period, we experience an increase in anti-social behaviour and we do target our patrols in the areas which are most affected.
"It goes without saying that the majority of young people are an absolute credit to themselves and their community, but sadly a small minority give them a bad name.
"We will continue to work with our partners to deal with any reports of anti-social behaviour.
"If you see our officers on patrol then please approach them and raise any concerns you may have in your neighbourhood."
Alcohol is linked to 200 different diseases and injuries including heart disease, liver disease and at least seven types of cancer. It's harmful for adults, but the risks are even greater for under 18s whose minds and bodies are still developing. A Public Spaces Protection Order is also in place in which prohibits the consumption of alcohol in public places.
Alcohol misuse among young people is directly linked to increased vulnerability through intoxication, is linked to increased risk-taking behaviour resulting in anti-social behaviour, violence, accidents, as well as other physical and mental health problems and poor school performance. People who begin drinking in their early teens are considerably more likely to develop alcohol problems later in life than someone who waits until they are at least 18.
For more information about the harms of alcohol for young people visit https://whatstheharm.co.uk/.
At key times during evenings and weekends, the council commissions two Youth Outreach Teams who engage with young people who congregate in the city centre, in and around transport hubs and local parks. The youth workers build relationships, offer support and guidance, and provide young people with the links to local youth services and specialist and targeted services.
Young people engaged by the Youth Outreach teams also get the opportunity to attend a 'Youth Hub' on Friday, Saturday and Sunday evenings at the Newcastle United Foundation 'Nucastle' facility to participate in sports activities, and take part in youth activities and workshops, and it also provides a safe space to hang out and socialise.