19 June 2020
| | 2 min read
Children in need receive support to learn from home
Children in care have become the first in Newcastle to receive laptops to support learning while schools remain closed to most year groups.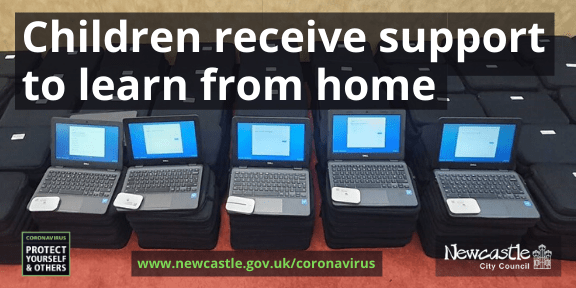 Equipment was today (Friday June 19) delivered to 56 homes across the city, supporting over 60 school age children to learn online during the ongoing pandemic disruption.
But they are just the first of many, with Newcastle City Council, supported by the Department for Education and Skills, North of Tyne Combined Authority and voluntary and community organisations, intending to provide computers and equipment to access the internet to everyone eligible who applied for help – closer to 3,000 families.
'E

nsuring no child misses out'
Cllr Veronica Dunn, cabinet member for education and skills, said: "With schools partially closed due to COVID-19 it is essential that all children have the same opportunities to continue their education at home.
"However, we know that lots of families across the city don't have either computers or internet access, so we must do all we can for the thousands of homes that need support to access online learning.
"We appreciate it has taken some time but we have worked hard with partners to source the right equipment and it is great to see the first of these laptops, which have been provided by the Department for Education, reaching some of our most vulnerable youngsters.
"I look forward to soon seeing much more equipment supporting many other families who responded to our survey asking for help, as we try to ensure that no child misses out."
Who is eligible for support?
The Government's support for at home learning includes providing equipment for children with a social worker, those who are leaving the care system and Year 10 students from disadvantaged backgrounds.
Newcastle City Council has received 1,600 laptops from the DfE, which are being distributed through the council and schools, once the equipment has been set up correctly to ensure children remain safe online. 
Alongside this, the local authority is working with partners including North of Tyne Combined Authority to provide equipment and internet access to for all families with children aged five to 16 who responded to our survey but who are not covered by the Department for Education's scheme.
Those items will be distributed in the coming weeks, with parents and carers asked to remain patient while we put arrangements in place.
Anyone who applied, and who is to receive equipment, will be notified in advance. They do not need to contact the council as officers will be in touch.
Find out more
For more information about support for families in Newcastle during the COVID-19 pandemic visit www.newcastle.gov.uk/coronavirus