24 March 2021
| | 3 min read
Business Restart Grants coming soon
As lockdown restrictions start to lift, Newcastle City Council is advising local businesses that further financial support packages to help them re-open safely will be launched soon.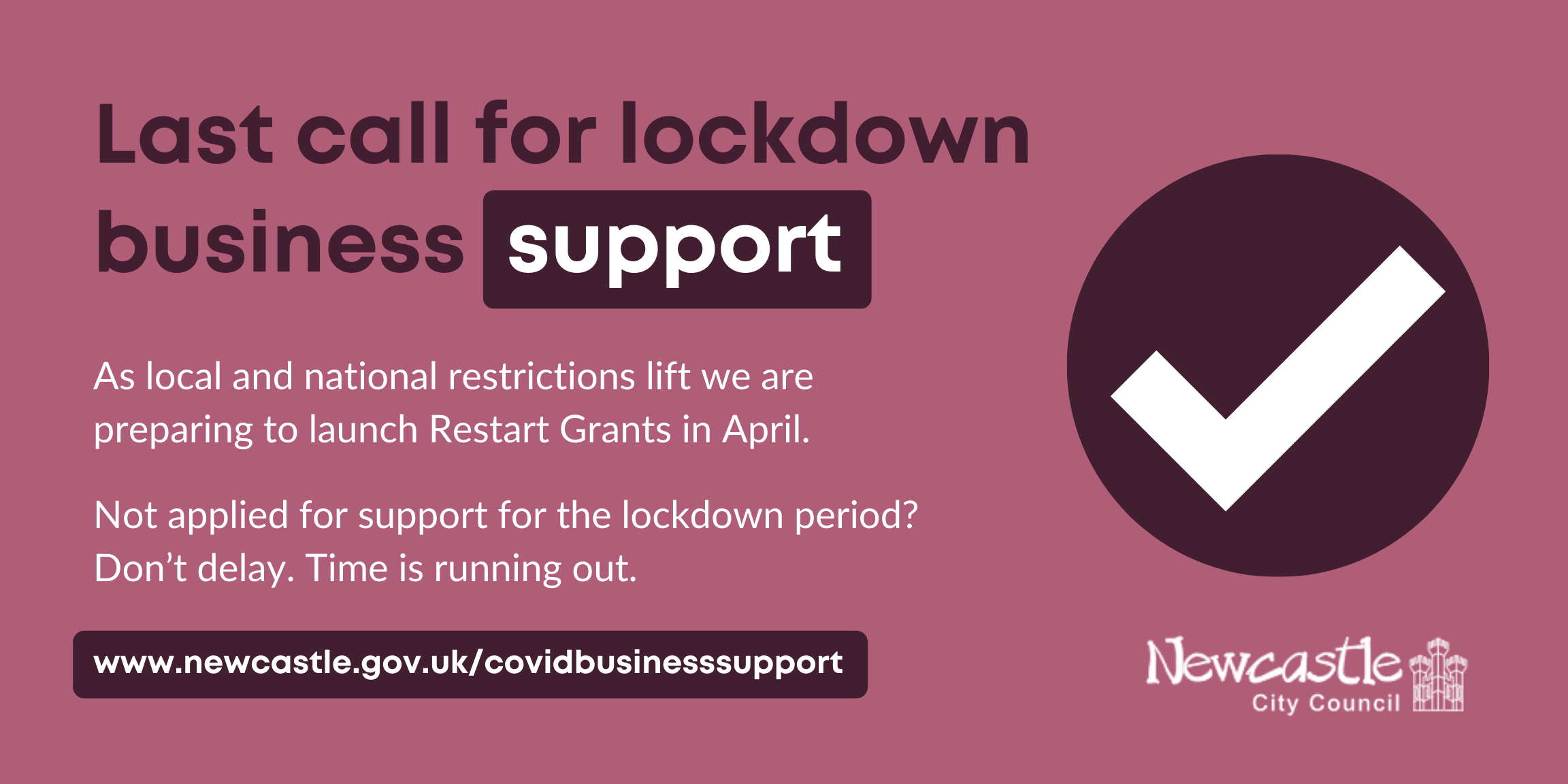 The Restart Grant scheme announced as part of the Chancellor's budget, supports businesses in the non-essential retail, hospitality, leisure, personal care and accommodation sectors with a one-off grant to re-open safely as COVID-19 restrictions are lifted.
Eligible businesses in the non-essential retail sector which are expected to open from the 12 April, may be entitled to a one-off cash grant of up to £6,000.
Eligible businesses in the hospitality, accommodation, leisure, personal care and gym sectors may be entitled to a one-off cash grant of up to £18,000. 
Cllr Ged Bell, cabinet member for employment and culture at Newcastle City Council said: "We recently set out an exciting new £50 million vision for the city centre, as well as developing plans for our neighbourhoods and local high streets, which puts the recovery of the city from this pandemic at the heart of all we do.
"Ensuring that our businesses have the financial support they need is a key part of this, from your local high street to your favourite neighbourhood pub. As a local authority, we've administered over £90 million to support our local firms through the pandemic, to keep Newcastle businesses in business and people in jobs.
"Our teams will be ready to issue the grants as soon as they become available to ensure our local economy has fast access to this vital funding and that our great city gets ready for re-opening again.  
"We recognise that many businesses in Newcastle have been excluded from previous schemes, and we have lobbied government hard for greater support for them. We have worked flat out to ensure our Additional Restrictions Grant is fully allocated to those businesses who have fallen through the cracks and not one penny will be sent back to government."
"This pandemic has been challenging on our city, our people and our communities, but we are a resilient city, with a bright future ahead and we will continue to work with our partners to ensure that our business community has the support they need to thrive once again." 
The Restart Grants will be paid through Newcastle City Council. Details have still to be confirmed by government, but the council expect these to be available from early April, with payments reaching eligible businesses' bank accounts by mid-April.
The council report that businesses who they have approved through previous grant schemes will not need to re-apply as Restart Grant payments will be made automatically. The council will contact eligible businesses directly when they process payments. Further details will be announced as soon as possible.
Businesses that are not registered for business rates or fall outside these sectors will not be eligible for a Restart Grant. The council continue to lobby Government on this point and await details of the next round of Additional Restrictions Grant which may provide funding for businesses excluded from previous government schemes and will announce this as soon as information becomes available. There was high demand in the city for the first round of this funding, which the council expect to be fully allocated in the next few days.
Various other grant schemes which have been available under the previous lockdowns and tier system are due to close to new applications from Wednesday 31 March. The council is urging any businesses who have still to apply, to do so now.
Full information is available at www.newcastle.gov.uk/covidbusinesssupport