29 April 2020
| | 5 min read
Bin it right to prevent recycling contamination
Families are being urged to "bin it right" after a surge in recycling contamination since the start of the coronavirus lockdown.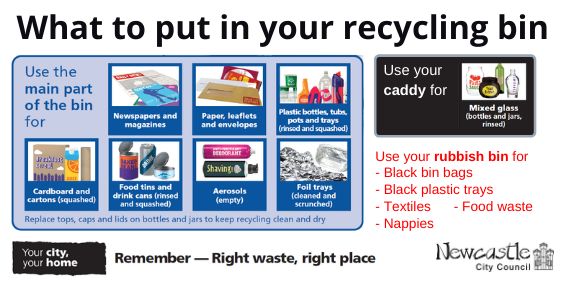 Many people are endeavouring to help the environment while at home, with the amount of rubbish picked up from blue bins increasing by almost 25% in April.
However, recent weeks have also seen almost a quarter of that waste containing items that should not be there, meaning less can be recycled and more waste sent to landfill.
'Contaminated recycling is not a victimless act'
Cllr Nick Kemp, cabinet member for environment and regulatory services, said: "We appreciate these are difficult times however, I would like to ask people not to contaminate their recycling bins with nappies, food waste, soiled packaging, black plastic bags, polystyrene, textiles, DIY materials or animal excrement.
"Contaminated recycling is not a victimless act – It is environmentally damaging, undoes the good work of the majority of residents who are disposing of their waste correctly, and the council has to cover the cost of dealing with that wrong type of rubbish.
"That is thousands of pounds that could be far better spent providing the essential services we all need right now."
Contamination reverses pre-lockdown improvement
Prior to the lockdown Newcastle had seen the levels of contamination falling, with an almost 10% reduction in the wrong kind of waste found in bins since last October.
However, since the start of the lockdown that improvement has almost entirely reversed, with more than 120 tonnes of extra rubbish – that's equivalent to the weight of one and a half Metro trains – having to be disposed of.
That is not good environmentally and even worse economically, with it costing sometimes four times as much to recover or dispose of a tonne of waste rather than reuse or recycle it.
Textiles a continuing problem
While ordinarily many people may take their old clothes to a charity shop or a clothing bank, during the current lockdown many charities are unable to receive as many, if any, donations.
That has led to an increase in textiles contaminating blue bins and being flytipped outside shops or alongside usual collection points, which in both cases means the material won't be recycled.
With dropping off unwanted clothing not classed as an essential journey, good causes are requesting that people hold on to donations a bit longer, until lockdown restrictions are lifted.
Delay your spring clean
As well as preventing recycling contamination the council is also urging residents who are tempted to begin spring cleaning while staying at home to hold off, as the extra rubbish it could produce could quickly overwhelm waste collections.
Currently all collections – rubbish, recycling and garden waste – are continuing as usual but, with household waste recycling centres closed, if households produce excess rubbish, they will have to store it until those centres open again. 
A Council spokesperson said: "We have worked hard to ensure all of our bin collection services have been able to continue as planned, but household wheelie bins are only so big, and we need people to put the right waste in the right place.
"Our crews really appreciate all of the goodwill shown across the city in recent weeks, and if you can aid them by doing these easy things, it really would help everyone.
"A simple way of to help is to delay any spring cleaning or home improvements that could create extra rubbish or recycling right now.
"Unfortunately, we can't pick up additional waste left at the side of people's bins as it not safe for our crews, and even if we could it would significantly slow down our collections.
"With crews emptying hundreds of bins a day those few extra moments would soon add up, and could easily mean we'd be unable to complete daily rounds, so people's bins would go uncollected."
Bin It Right
Amid a 25% increase in the amounts of rubbish and recycling generated by Newcastle homes during the lockdown, the systems that pick up, sort and treat waste continue to work effectively.
By "binning it right" residents are helping the council to maintain efficient bin collections, ensuring the safety of staff working on recycling lines, and that more will be recycled, composted or used as fuel to produce heat and electricity.
For information on minimising the amount of rubbish and recycling you produce visit www.newcastle.gov.uk/bins
To check your bin days online visit www.newcastle.gov.uk/bindaychecker
To check what to put in each bin visit www.newcastle.gov.uk/rightwasterightplace   
Or to arrange a paid for bulky waste collection visit www.newcastle.gov.uk/bulkywaste