24 March 2022
| | 3 min read
18 partners join forces to tackle youth employability in Newcastle
It's kick off for a collaborative campaign across Newcastle this month as the Skills Hub, a one-stop-shop for employability support launched its all-new Youth Offer.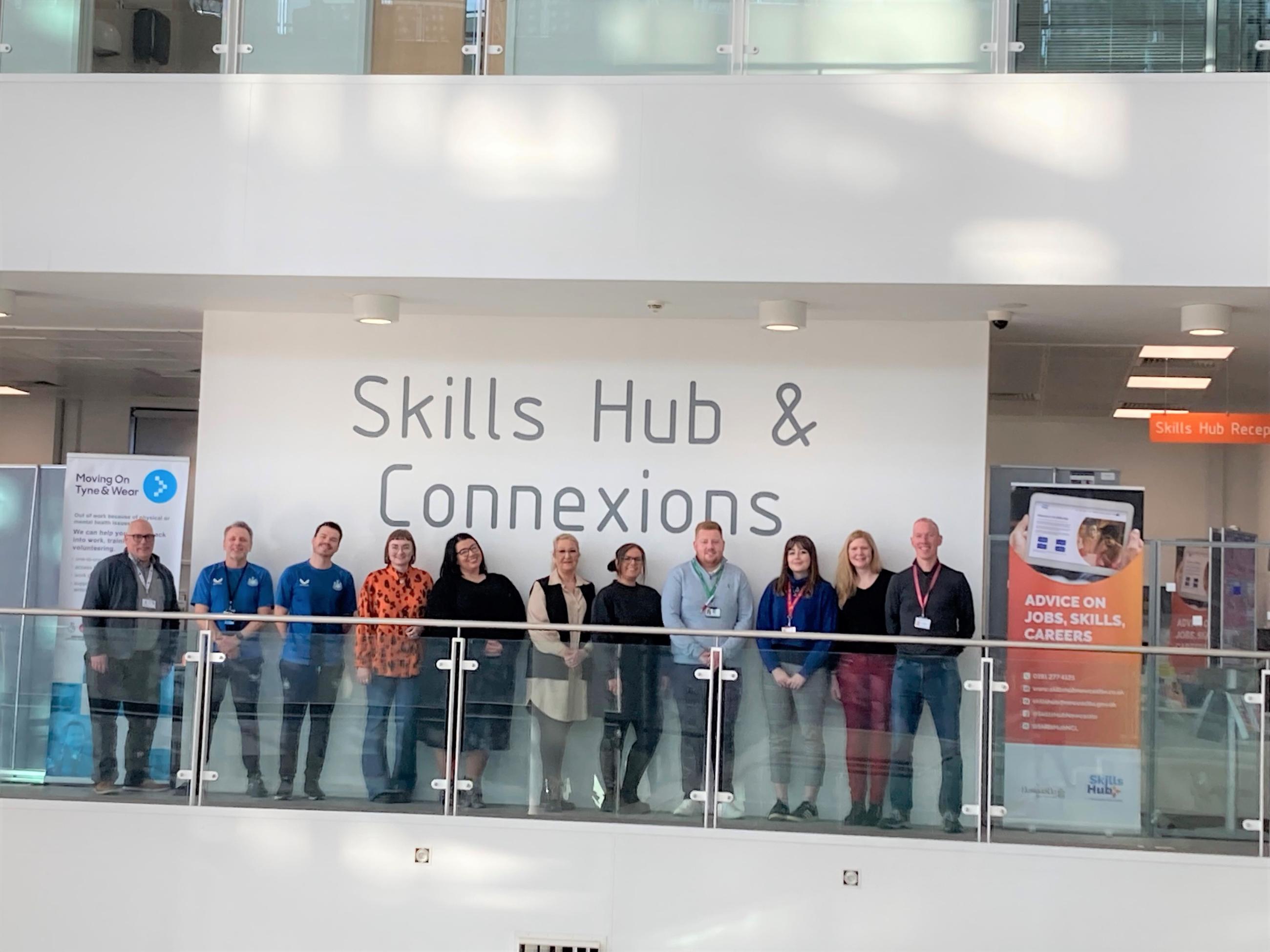 The Skills Hub, a free service which was established in 2016 is a Newcastle City Council-led service that brings together partner organisations to provide employment support, careers advice and guidance and business start-up advice.
The all-new Youth Offer from the Skills Hub launched on the back of a busy National Careers Week and is proving to be a real team effort with an array of influential partners and businesses on board to ensure maximum impact and engagement. Eighteen partners including Newcastle United Foundation, Smart Works Newcastle, Penshaw View and the Prince's Trust are now working together to support young people through a range of services. 
Cllr Joyce McCarty, cabinet member for inclusive economy, said: "The Skills Hub has provided vital support to hundreds of young people across Newcastle since its inception and it is great to see the partner network continue to grow which will further support the all-new Youth Offer. All partners provide amazing opportunities for young people to connect with employers and key support organisations to give them the best possible chance of enhancing their employability skills, thus in turn having a direct impact on the regional employment market."
The Skills Hub plays a vital role in supporting people to move closer to the world of work. Its collaborative approach with partners brings the city's employability provision together in one place at the City Library and provides the perfect one-stop-shop for people, helping to remove the many barriers that people often face when looking to secure employment. 
Dawn Barber, Business Network Manager, Newcastle United Foundation said: "Newcastle United Foundation are delighted to partner with the Skills Hub and other regional partners to support young people to achieve their employment goals. NU Futures is one of the largest employment support programmes for 11 to 25-year-olds in the region, with outreach work across Newcastle, North Tyneside, and Northumberland through a network of up to 300 North East businesses.  
By better connecting young people with life-changing opportunities in the North of Tyne economy through inspirational employer encounters, tailored one to support, guidance on apprenticeships and career paths, NU Futures will tackle wealth inequalities issues, low productivity and exclusion for the next generation."
The all-new Youth Offer will see a range of youth employability providers and employers scheduled on site on Tuesdays and Thursdays including Groundwork, Moving on Tyne and Wear and Your Homes Newcastle. Young people will be able to access free support from employability services, and pop in to visit recruiting employers and training providers, with signposting to the most relevant workshops and events to meet their needs.
The Skills Hub is committed to ensuring that the best possible tailored support is provided, if you'd like to find out more about the all-new Youth Offer, call into the Skills Hub, call 0191 277 4125, email skillshub@newcastle.gov.uk  or visit www.skillshubnewcastle.co.uk