Succeed with Newcastle
Body:
Great teams with supportive and professional managers
Our staff are passionate and committed to the work we do and our teams provide supportive learning environments. We have a strong mix of experienced and newly qualified social workers to ensure our teams have a depth and range of knowledge, expertise, and experience.
Staff at every level benefit from the training and support they need to enhance and develop their practice.
The opportunity to work with diverse families that reflect our vibrant and diverse city
Newcastle is a great city that provides staff with the challenges and opportunities of core city working.  As a city of sanctuary, we support families from all over the world. We can provide you with dynamic and interesting work that can make a real difference to our communities.
The support you need to develop and progress
Here at Newcastle, your access to training and development opportunities which support your continued professional development are a priority for our service.  As a practitioner within Social Care working to support children and families, your commitment to training and opportunities which advance your skills and knowledge is critical
We have a strong training and development offer for our staff starting right from a dedicated five day service induction.  We also know that everyone learns differently, often at different paces and in different environments. Offering staff opportunities to attend smaller and larger face to face training and learning workshop events, providing access to online resources and tools as well as supporting a suite of eLearning modules, we feel there is something for everyone.
It is a priority for us that social workers are supported through professional development, opportunities for advancement and involvement in regional and national initiatives.  We encourage our social workers to use research to inform their practice and commission Community Care Inform to provide them with the most up to date research.
We are part of the North East Teaching Partnership and provide social work student placements for universities within the partnership.  We also run both Frontline and Step up to Social Work placement programmes.
 Social Work Centre of Excellence 
In Newcastle we are committed to supporting the professional development of our staff at all levels and in all services.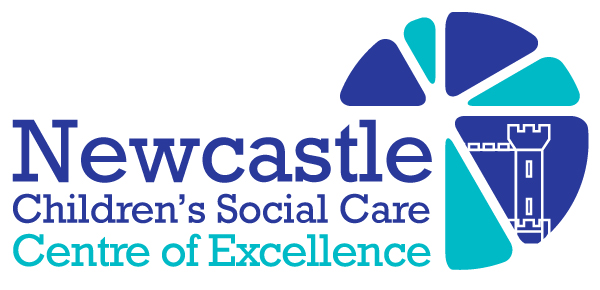 To ensure we have a skilled workforce with the right tools and knowledge  our Centre of Excellence supports us to embed best practice in our work consistently and effectively. 
The Centre of Excellence is responsible for:
     - Oversight of our training and development offer to all staff
     - Developing and supporting our ASYE staff through the ASYE Hub
     - Planning and supporting training and development opportunities including supporting practice updates and developing practice materials. 
     - Developing and planning our staff induction.
     - Identifying and planning opportunities for professional development across our whole workforce.
"I started my social work career in Newcastle as a student and have since completed my ASYE with them.  Newcastle has ASYE workshops as part of their practice to further support newly qualified social workers as they begin their social work journey, which is an amazing resource. I have now enrolled for post qualifying modules to begin my progression and have identified further opportunities available in Newcastle for individual professional development.  I have had support and encouragement every step of the way from the whole team." Social Worker 
"I would say as an AYSE I felt so supported by Newcastle, the AYSE programme is tailored to help NQSW move from the role of student to social worker in a way which allows them to grow and develop as a practitioner is a safe and supportive environment" Social Worker
A culture of learning
We hold regular interactive practice update sessions, which provide our staff with the time to reflect on social work practice.
We have an active practitioner forum, chaired by our Principal Social Worker that helps to develop and share new and best practice approaches within the service.
We have an appreciative approach to learning and hold quarterly reviews where our teams share insight about cases they have worked on in conjunction with our Informatics and Insights team who help us scrutinise the story behind our data to improve our practice.
A service committed to improvement and listening to their staff
Staff are helping us to shape our improvement journey as we strive for the best outcomes for every child within our service.  We hold regular staff engagement sessions to ensure our vision is relevant to and shaped by our staff.
We also produce a monthly staff newsletter 'CSC Voice' to celebrate our achievements, share best practice and keep staff up to date with service and council developments.