Where is the North East Community Forest?
Where is the North East Community Forest?
The North East Community Forest was formally established on July 21 2021, after a successful expression of interest was made to both England Community Forests and the Department for Environment Food & Rural Affairs (DEFRA).
It is overseen by the North East Community Forest partnership, and a dedicated Forest Team, with Newcastle City Council acting as the accountable body.
Location
The North East Community Forest covers 1,503 square kilometres of North East England, including the entire geographical boundaries of Newcastle, Gateshead, North Tyneside, South Tyneside, and Sunderland, plus, the main urban areas of County Durham.
The entirety of Durham is not included because England Community Forests cover urban or peri-urban areas (that is, immediately adjacent to a city or urban area), while the county also includes large rural areas.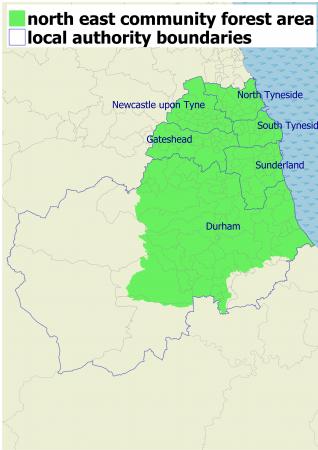 Specific sites
Work is underway to identify "shovel ready" sites for the first year of planting (November 2021 to March 2022)
In the 2021/22 planting season the forest aims to plant 25 hectares – or about 35 football pitches - of new trees.
The forest will then – backed by substantial Government funding, amongst other funding streams - have a target of planting a further 475ha of trees by 2025, with 700ha more by 2030, and the target rising by 200ha every five years thereafter, until 1,500ha are planted between 2046 and 2050.
In total that would see 6,000ha planted, which will help towards an overall target of having 30 percent tree canopy cover within the community forest area by the middle of the century – almost double the current national average.