Welcome to Newcastle Libraries
Welcome to Newcastle Libraries
We offer free internet access in every library in Newcastle. To use a library computer you will need your login number and password. If you're not already a library member, you can join for free. 
Using library computers:
Public PCs at Newcastle Libraries

We provide free access to the internet in all our libraries. All users of the PCs must agree to abide by our Acceptable Use Policy. You can also use some programmes to help you apply for jobs, scan documents or catch up with social media:

Microsoft Office on our PCs including Word and Excel
Free access to Ancestry.com Library Edition
flat-bed scanners to digitise pictures and text, and a black and white printer and most libraries have a colour printer as well

Booking is currently unavailable as it is drop in access only.

You can use the computers for a maximum of 1 hour per day, depending on availability.  

What happens during the session?

To start your session, you will need your library card number and PIN. 

You can print from any computer for a small charge, just follow the instructions on screen

We recommend that you save your work to an external memory card or your own cloud storage.

You may save work to 'My Documents' or 'desktop' of the local drive, however, i

f there is network disruption during your session you may lose saved work

You will receive a prompt  30 minutes, 10 minutes and 2 minutes before your session ends
At the end of your session, the PC will time out automatically. Remember to log out if you want to leave before your session ends by clicking 'Log off PC' on the desktop

You can view the printing and other costs on our Fees & Charges page

Where is my login and pin?

If you do not know your login number and PIN, please contact a member of staff at your local library.

Where Can I get Help & Support?

Do you want to use a computer but don't know where to start? We can help you learn the basics - how to use a PC to access and use the internet.

Getting stuck with your smartphone? We can help you get the most out of your personal device. 

There are regular one-to-one taster sessions held at our libraries where a member of staff will sit down with you and go through everything step by step at a pace to suit you. To find out more see our Get Online Newcastle webpage, phone 0191 277 4100 or email information@newcastle.gov.uk.

Try one of our online courses - a one to one IT taster session, or a more informal 'Techy Tea Party', or a 'Learn My Way' Online basics course

To book a place, just visit the Newcastle Libraries Events webpage.  You will be asked for an email address to book your place, but don't worry, if you don't have one just use getonline@newcastle.gov.uk. Your ticket will be emailed to us and we will post it out to you.

 

Did you know you can access a wireless network at over 50 public buildings across the city, including all Newcastle libraries?  To use the Wi-Fi on your mobile device select the network 'Newcastle-Public' and follow the on-screen steps. 

What if I have Accessibility issues?

You can use the Accessibility settings on the desktop  - to enable screen readers, change font size, change the contrast and navigate by using a keyboard
Quick Guide:
Once logged in you access the library catalogue, online resources and the internet by clicking on an icon on the desktop

Keep an eye on your time remaining for your booking, you can extend your time (if there is no queue) by speaking to a member of staff

You don't need to pre-book - you can use any machine for up to two hours (if there is no other booking in place)

If you'd like to book a PC - you can use one of the touch screens at City Library

Make sure you sign out when you're finished - you can do this by clicking on the 'Log off PC' icon on the desktop 
____________________________________________________________________________________________________
Borrow Hublet tablets at City Library
Hublets are free to use portable tablet devices. They are available to borrow on Level 4 of City Library. You just need your library card information to borrow one. You can use the device anywhere in the library and can surf the web, check your email, catch up with social media and search the library catalogue. The Hublets are useless outside of City Library and will not work if removed from the building.
How to use a Hublet
1) Touch the screen to start and choose 'library card'
2) Scan your library membership card or enter your username
3) Enter your usual library PIN
4) When you're done, return the Hublet to the station - your browsing history and data will be automatically wiped
Did you know?
You can search hundreds of historic newspapers, practice for the driving theory test, find legal advice or help with your homework through our online resources . Access all of these resources from a library PC - and you can access most of them when you login from home 24 hours a day.

Trusting online information:
Our public PCs have an 'internet trust tool' installed on the Chrome browser.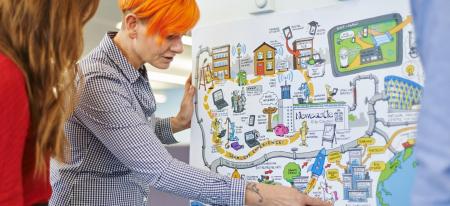 Newsguard provides information on how reliable websites are when providing information - useful in the world of false news, misinformation, and disinformation.
____________________________________________________________________________________________________
Newcastle Libraries on the go:
Access Newcastle Libraries at a time and place convenient for you with the free Newcastle Libraries mobile app. Download our free library app and you will be able to find or reserve a title, access eBooks or renew your loans straight from your mobile. You can even scan the barcode of any book when out shopping to see if we have a copy - a great way to save money! The app gives you library information including opening hours, maps and directions.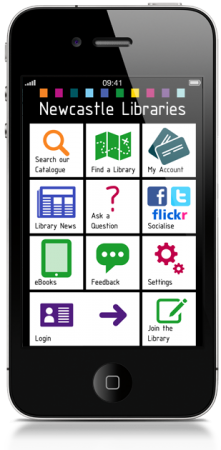 The Newcastle Libraries app is available for iPhone, iPad and Android devices.