Skills Hub
Skills Hub

What is the Skills Hub?
The Skills Hub brings together a range of partner organisations who offer young people and adults living in Newcastle:
Careers advice and guidance
Help getting into work and training
Advice setting up a business
As part of our response to Covid-19, we are currently providing an enhanced service, 'Jobs @ Skills Hub', to help local employers to recruit local jobseekers, and make it as easy as possible for people to get back to work and employers to grow their workforce.
You can visit our dedicated website or watch our short video to find out more about the Skills Hub. 
The Skills Hub is based at the City Library. While it was closed for a period during Covid-19, it has continued to provide access to support virtually, and will be re-opening from 5th September 2021. 
The Skills Hub partner organisations offer one-to-one appointments, which can be arranged by visit, phone or email. These organisations include: 
A free programme of events is also available and includes support workshops with practical advice, and employer-led activities, such as jobs fairs. Information about the latest events can be found on the Skills Hub website or our Facebook page.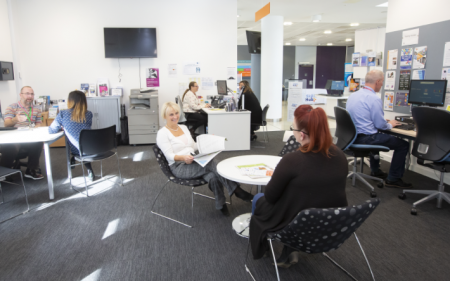 Opening hours
The Skills Hub will be open from 5th September 2021 onwards. Standard opening hours are  Monday to Friday from 10am – 5pm in Newcastle City Library.