Reading Well Dementia
What is 'Reading Well Dementia'?
Reading Well Dementia is a collection of recommended books you might find helpful if you have dementia, or want to find out more about the condition. The books include information and advice, help after diagnosis, practical support for carers and personal stories. These books were recommended by The Reading Agency and health professionals and were tried and tested by people with experience of dementia. Books were selected using guidelines and quality standards for dementia care from NICE (National Institute for Health and Care Excellence) and other professional organisations.
What are the books and where can I find them?
There are copies of each title at 10 of our libraries: City, Cruddas Park, Denton Burn, East End, Fenham, Gosforth, Kenton, Newburn, Outer West and West End Libraries. Books can be borrowed for 4 weeks at a time and this loan can be renewed if no-one else reserves them. Find these books in the 'Reading Well' sections at  each participating library.
 View the 25 titles recommended on the scheme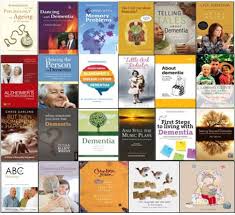 How does it work? 
Anyone can borrow a Reading Well Dementia book. You can use the books on your own or with the support of a health professional or carer. If you are worried about dementia or your memory we would recommend you to talk to your GP.
Other Health Resources
The following reputable organisations offer information and support for people living with or affected by dementia: