Summer Reading Challenge 2020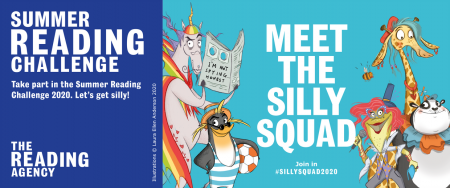 This year's challenge goes digital! From June to September, 4 to 11-year-olds can join a new online version of this popular initiative, run by libraries and The Reading Agency. Every year, the Summer Reading Challenge encourages and supports children to enjoy a summer of amazing books. This year's theme is Silly Squad - a celebration of funny books, happiness and laughter. The aim is to encourage children to read what ever makes them happy, get silly and have fun!  
How do I take part? Create an account on The Reading Agency's dedicated website www.sillysquad.org.uk.
Here's a short video showing you how to join the Summer Reading Challenge online: https://youtu.be/LgH6spRkq7E
Children can set their reading goal, record each book read, find books, post reviews, get rewards, play games and earn badges as they discover awesome books to read. There is access to tons of fun resources and a special Summer Reading Challenge certificate available to download.  
Looking for new books for the challenge? Why not browse BorrowBox? For free digital books and audio books. BorrowBox offers library card holders the chance to borrow digital books and audio books for free on their computer or smart device. Choose from a range of books, featuring some from popular children's authors, including JK Rowling, Roald Dahl and David Walliams. We're expanding the selection, so children have lots of books to choose from.
How do I download the app?
To download the app, go to the app store on your device and search for and download Borrowbox. The App is compatible with a range of devices - consult the 'help' section when logged into BorrowBox for more information. Select 'BorrowBox Library' from the Apple App store or Google Play to download the BorrowBox app to your device. When logging into App for the first time you need to select Newcastle Libraries - UK.
Don't' have a library card? That's ok as it's never been easier to join. Complete this online form
To support the Silly Squad Summer Reading Challenge Newcastle Libraries, have a programme of fun events and online activities taking place throughout the summer. There will be a range of digital activities every day from 22 June. Including our amazing library storytellers, crafternoon sessions, story sessions from children's author Vivian French, Big Bang Science Parties and Craig Bradley who brings poetry, music and comedy to his workshops.  Not forgetting our Silly Squad dance sessions with Fiction Dance!
To find out about our online events and activities check us out on social media.
Remember send us your book reviews and videos. We love seeing and sharing them!
Follow us, like and share
Twitter @ToonLibraries
Facebook @NewcastleLibraries
Instagram @toonlibraries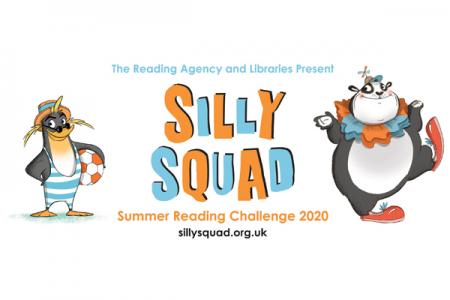 Illustrations © Laura Ellen Anderson 2020

Did you know?