Tovertafel: magic table
Newcastle Libraries are proud to offer Tovertafel, magic table in English. The magic table projects animations onto table surfaces and allows users to interact with the light by moving their arms and hands. This innovative service offers access to life enhancing technology for people with dementia, autism and learning difficulties.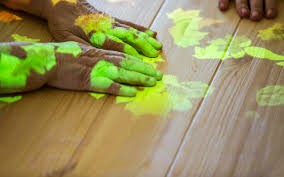 The new service is available for groups and residents to use for free on Wednesdays between 10am - 1pm and Thursdays between 10.30am - 4.30pm. Additional sessions may also be available on request.  Sessions will be held in room 8 on level 6 in City Library.
If you would like a demonstration or to book a session please email the date and time to room.bookings@newcastle.gov.uk to check for availability.
For more information about the magic table please email information@newcastle.gov.uk