Library of Sanctuary
Library of Sanctuary
We are in the process of applying to become a Library of Sanctuary, reflecting the support and interaction we can offer refugees and asylum seekers with our service. To show our commitment we have signed up to the City of Sanctuary organisation pledge.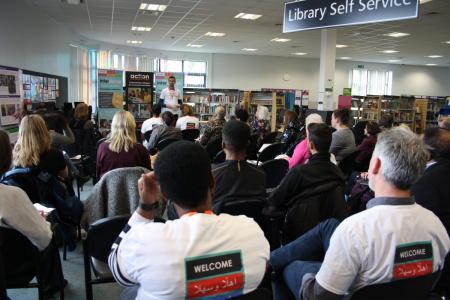 We have safe spaces, free access to services including PC and Internet usage, community language resources, family activities, staff to support interactions with local housing providers and council services. City Library also provides a hub of information and support by Citizens Advice during drop in sessions, Skills Hub supporting employment opportunities and Your Homes Newcastle drop in sessions.
We are looking for additional partners to collaborate with as we already work with Action Foundation delivering supported drop in sessions. If you are interested please email information@newcastle.gov.uk 
Further information can be found at Newcastle City of Sanctuary and Libraries of Sanctuary.
To demonstrate our commitment to Libraries of Sanctuary Newcastle Libraries:
• contribute to stronger, resilient communities working in partnership with community groups and others 
• act as a medium of positive communication between sanctuary-seekers, migrant groups and local communities, using displays, events and networks
• provide free internet, information, access to local and national government services and signpost to other helpful agencies
• promote local support organisations and opportunities to join in their activities
• use displays and the example of their staff to promote respect and welcome to sanctuary-seekers among all their users
• bring communities and cultures together through storytelling and other events
• provide space for English classes, conversation clubs, community language and reading support
• support local initiatives to bring the needs of sanctuary-seekers to the attention of other sections of the community through meetings, social events, exhibitions, or other means
• provide volunteering opportunities and spaces for bringing people together and sharing experience
• collect and exhibit objects which tell relevant stories with the potential for promoting community cohesion
For general enquiries please email information@newcastle.gov.uk
Online Resources
The British Way of Life: contains information that may be useful for people newly arrived in the UK. It covers topics such as the different types of visa, finding a job, pre-school for children, further adult education, public transport, staying safe in your home, necessary house and car insurance, etc. Available to view in several different languages.
Life in Great Britain: is an online resource that helps those preparing for the Life in the UK British citizenship test. It is easy to use and features practice tests which simulate the Test experience with 25 questions and a 45 minute timer and speech.
The above online resources can be accessed with your library card number and PIN.  If you are not a member of the library you can join online.
Booklists and Support Websites
Library of Sanctuary Book List
Newcastle City of Sanctuary Support - provides lists of where to get support, ESOL classes and drop-ins.
International Newcastle - provides a list of organisations offering help, support and information to refugees and asylum seekers.
The governments Welcome: a guide for new refugees is essential reading for adults who have been granted asylum in England to access public services and make the most of the opportunities in the UK. Available in several languages.
Did you know?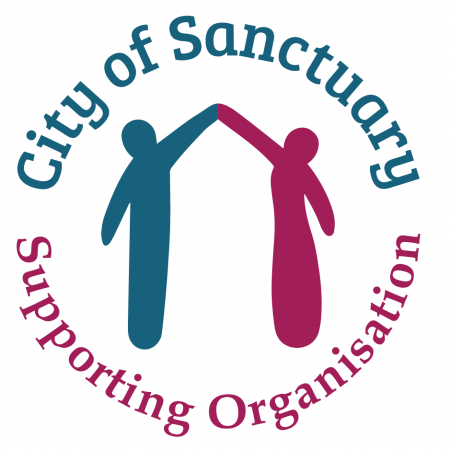 Newcastle has been welcoming people seeking sanctuary for many years. While those seeking asylum have no choice over where in the UK they are dispersed to, we take great pride in the fact that so many refugees chose to settle here once their claim for asylum has been determined.
As a city we are committed to doing what we can to welcome those seeking sanctuary and to help rebuild lives. We are honoured to be a recognised City of Sanctuary; part of a network of towns and cities throughout the country that are proud to be places of safety, and which include people seeking sanctuary fully in the lives of their communities.