Denton Burn Library
Denton Burn Library
West Road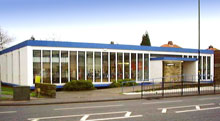 Newcastle upon Tyne
NE15 7QQ
Opening Hours
Monday: 10am - 1pm and 1.30pm - 5.00pm
Thursday: 10am - 1pm and 1.30pm - 5.00pm
Saturday: 10am - 2pm
The public computers are automatically turned off 15 minutes before closing time.
Access
Limited free parking is available on-site.
Full accessibility information can be viewed on Denton Burn Library's page on the AccessAble website.
The library is autism-friendly; download Denton Burn Library's autism- friendly user guide.
Library services
Books, magazines and newspapers
Free computer, internet and Wi-Fi access
Printing, photocopying and scanning facilities
Storytime
Our site is in Beta Live, we welcome your feedback to help us improve the site.