Sandhills Garden Waste Recycling Centre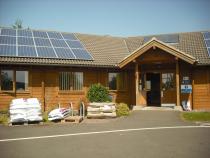 Sandhills is a Council-owned facility located on Walbottle Road in Newburn. Garden waste and vegetation waste is recycled at Sandhills into high quality soil conditioner which is available for purchase by trade or public customers.
Delivering waste vegetation (trade waste)
On Mondays to Fridays (not bank holidays) between 8:15am and 3:45pm, Sandhills accepts good quality garden and parks vegetation from business customers (for example landscapers and gardeners). The waste vegetation must be free of rubbish such as litter, bags, soil and rubble. Vehicles with loads not meeting the quality rules will be turned away.
The waste vegetation is processed at Sandhills and turned into soil conditioner which conforms to PAS100:2018 Standards.
Disposal fee
The charge for disposing of vegetation is £36 per tonne (minimum charge £18 for all loads up to 500kg) including VAT. Accepted payment methods are debit or credit card, cheque or invoice. You don't need to notify us prior to disposal - just turn up. However, in case of payment by invoice, your details must be checked and agreed prior to your first tip.
Site safety
Our site operates to a set of site rules. Copies are available from either the weighbridge or from reception.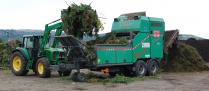 All trade users going into the compost yard will need high-visibility clothing and appropriate steel toe capped footwear before they are allowed on the site. We do not supply or lend out high-visibility clothing.
Our site admits large sized bin wagons and small tippers.
To ensure everyone's safety, users must follow the site rules, you must follow any instructions from our staff and observe speed limits on site and be courteous.
Buying recycled soil conditioner for your garden
The soil conditioner produced at Sandhills can be purchased by both trade and public customers.
We can deliver 1 tonne of soil conditioner loose to Newcastle addresses for just £27 and at a pre-agreed time. Please call for a price if delivery is to an allotment.
The picture to the right shows the size of approximately 1 tonne of soil conditioner.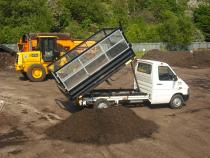 Customers can also collect bagged soil conditioner from Sandhills reception, Monday to Fridays (not bank holidays) between 8:15am and 3:45pm, for £2.50 per 25kg bag (maximum 4 bags per/customer).
Unlimited quantities can also be collected loose from site for just £12 a tonne (min half tonne/£6). However, you will need a strong trailer or open backed vehicle which we will load using our mechanical loading shovel (no self loading).
Contact Sandhills
Please get in touch if you have any questions or want to book a delivery. Our office hours are Monday to Friday 8.00am to 4.00pm.
Phone: 0191 278 3933
Address: Sandhills Depot, Walbottle Road, Newburn. NE15 9RU
Did you know?
Be a greener gardener and recycle your waste using our garden waste collection service. For just £40 per year, we can collect your garden waste for you.
Pay online and order a bin at the same time if you need one.