Commercial waste disposal
Commercial waste disposal
Our commercial waste service in Newcastle upon Tyne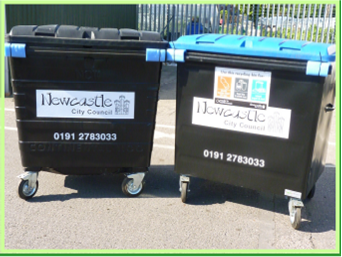 We are locally based in the west end of Newcastle. All of our staff are friendly and dedicated to giving you the best customer experience. Our trained crews have excellent local knowledge. 
To further improve the customer experience we have invested in the latest technology to ensure a smooth running and reliable service. Our fleet of vehicles is tracked in real time and the crews have in- cab technologies that enable swift reporting of any issues.
We are very competitively priced, so please give us a call to discuss your options. 
Our Team
For further information on our Commercial Waste Service please contact our dedicated team:
We will respond to emails and call back requests within 48 working hours. You will get a named contact for your query or contract.
The collection service operates over 7 days a week, with our friendly and knowledgeable customer service and payments team working Monday to Friday 8am till 4pm (excluding bank holidays.) You can also make reports and requests by phoning 0191 278 7878 and asking for "Your Local Services."
Our Service for You
Commercial Services are pleased to be able to offer a 7 day refuse collection service within the City Centre.  Collections can be provided Monday to Sunday for general waste. 
Recycling and glass collections can now be offered in the City Centre on a 6 day collection service Monday, Tuesday, Wednesday, Thursday, Friday and Sunday.
If you are interested in having a service for any of the above services please email  commercialservices@newcastle.gov.uk and they will be able to assist you.
Remember, the requirements of the Environmental Protection Act 1990 place a duty of care on all producers of waste from businesses to ensure all waste is sorted and disposed of responsibly. See our pages on the duty of care.
We also offer the following services:
Collections tailored to your unique business needs.  We offer a range of collection frequencies over 7 days

Proactive customer service. We will let you know of any collection or payment issues in advance where possible, helping you to keep on top of your waste management.

Refuse and Recycling collections, so you can be a greener business!

Waste containers. We offer a range of sizes for a variety of clients and business types. You can pay for as many bins as your business needs.

Site visits to assess your needs and to make sure you get a tailor made service.

Additional collections of waste outside of your standard contact. Please contact us regarding charges and options.  We can also arrange collection of some hazardous items outside of contracted agreements for a separate charge.

A variety of payment options
---
Report a problem with trade waste
If you experience any problems with businesses not disposing their waste in the appropriate manner, telephone 0191 278 7878 and ask for 'environmental health' or email psr@newcastle.gov.uk.
If you are an existing customer and need to report a missed collection or other issue, please contact the team 0191 265 1414. We will look into the matter for you as soon as possible
---
Did you know?
Trade waste is any waste that is produced by a business activity.
So if you run a business from your home or operate a short term holiday rental or b&b, you will need to arrange for a commercial waste collection.
If you are not sure about this or need more information please contact our Commercial Waste Service Team:
Related Pages
Need more information?
For further information on our Commercial Waste Service please contact our dedicated team:
If you want more advice on disposing of business or commercial waste, please have a look at the governments' guidance.
Pages in this area