Zone 3 – Other areas of the city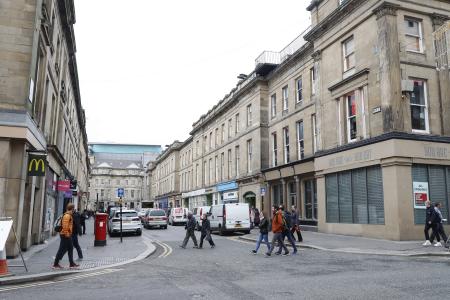 In order to support the proposals for the retail core, a number of other changes would need to be implemented. 
Proposals for Clayton Street, Nelson Street, Grey Street, Grainger Street and Old Eldon Square: 
Servicing and delivery timing restrictions in this area would be in line with the other areas. This means deliveries would only be allowed between 10pm and 7am and would help to provide a consistency across freight routes in the city centre. 
Proposals for Hood Street:
We would plan to  introduce 24-hour disabled parking provision on Hood Street to ensure close proximity to Blackett Street for Blue Badge holders. 
Motorcycle parking would be retained as well as a loading facility that would be available at all times. 
The taxi rank and small number of pay and display bays on Hood Street would be removed.
Proposals for Shakespeare Street 
On this street we would plan to introduce of a new full time taxi rank to provide 24-hour access from Grey Street, the Theatre Royal and the Blackett Street area. 
Proposals for Nun Street:
Taxi facilities would be removed.
Proposals for Clayton Street:
We would increase taxi and loading provision here. This would include a combination of 24-hour and some part-time provision.