Zone 1 – Blackett Street area
Our plans for the Blackett Street area are to create a welcoming and safe environment for people in this busy part of the city centre.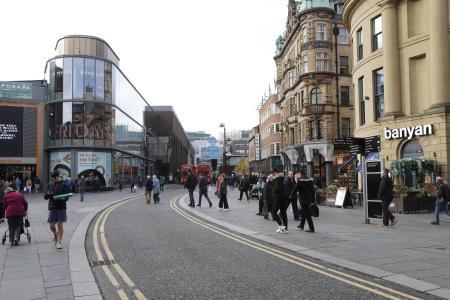 We intend to create a seamless pedestrian area from the bottom of Northumberland Street through to the Monument by restricting motor vehicle access at all times. This would require the re-routing of buses away from the Blackett Street area, with bus stops located in convenient places close to the main shopping areas. 
New access and timings for deliveries and servicing to business premises would  minimise large vehicles being present in the area at the same time as people, making the area feel cleaner, safer and more accessible.
These changes would unlock the potential for events and activities to take place throughout the year and help to add to the atmosphere and visitor experience that leads to increased footfall and spend.
Proposals for the Blackett Street area:
The main priority in this area would be the creation of a safer area for people on foot.
To achieve this aim, buses would be relocated from Blackett Street, New Bridge Street West and Pilgrim Street.
Buses that currently serve Blackett Street are proposed to be re-routed around the 'Bus Loop', primarily to Newgate Street, Grainger Street, Market Street and John Dobson Street. 
Bus Stop and shelter provision would be reviewed around the bus loop with additional permanent stops being provided in suitable locations. These areas are likely to include Newgate Street, John Dobson Street and Market Street East. 
We would continue to work with Nexus and bus operators to communicate further information on the bus stop locations and routes. 
Servicing and delivery timing restrictions would also be introduced on Blackett Street, New Bridge Street West and Pilgrim Street and this would mean deliveries would only be allowed between 10pm and 7am. 
The area directly between Monument Metro station and Pilgrim Street would have no access to motor vehicles at any time. This would allow for the development of new public spaces for everyone to enjoy.  
Access would be possible to Eldon Lane and Brunswick Church only for premises that possess private off-street car parking spaces.  This would be via a mechanism such as fob, card or permit and access would be from the Blackett Street junction with Percy Street / Gallowgate. 
Cycling infrastructure would be provided on adjoining junctions, including at Gallowgate / Percy Street.