Transforming our city
Our vision 
Our Newcastle is a great city, one that never stands still. 
A city that makes history and shapes the future. A place of bright sparks and big ideas. Of people who are passionate about the place they call home. And who always strive for something better.
And at its centre, Newcastle is as restless as ever in the pursuit of progress. 
We've got a plan to make our city centre better than ever. New business districts, new jobs, new homes and new connections. 
We're growing, changing and investing in tomorrow. After all, great cities don't stand still.
This city and its people deserve a network of great travel choices and connections - reliable, smart and green, with more opportunities within the reach of everyone. 
A place that has cleaner air and puts people first, and where public transport and healthy, active travel, such as cycling, and walking is a choice for everyone. 
How would we achieve this?
We are proposing changes throughout the city centre and they are outlined below, by zone:
Zone 1 - Blackett Street Area (shown in yellow)
Zone 2 - Northumberland Street Area (shown in pink)
Zone 3 - Other areas of the city (shown in blue)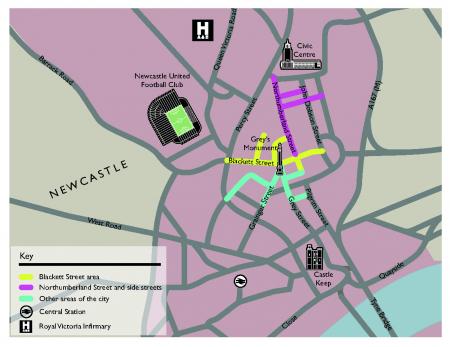 Timescales
We are talking to people about the proposals and seeking feedback from retailers, businesses, commuters, residents and all users of the city centre. This will take place until Friday 31 January 2020 and will allow people to give feedback on the proposals and any additional comments or ideas on how we can develop the city centre into a public space for everyone to enjoy. 
Some key stakeholders will receive letters about the proposals, and anyone can come along, ask questions and find out more at the following drop-ins sessions:
•    Tuesday 14 January, from 11am until 3pm. Grainger Market, Alley 2, Unit 80/81.
•    Thursday 16 January, from 4pm until 8pm. Eldon Square Grey's Quarter, ground floor near the Grey's Monument entrance.
•    Monday 20 January, from 11am until 3pm. Brunswick Methodist Church, 1st floor, room 1.
•    Wednesday 22 January, from 4pm until 8pm. Eldon Square Grey's Quarter, ground floor near the Grey's Monument entrance.
We will review the feedback and consider any changes that may be needed to our proposals. We will then formally advertise the legal changes – this is known as a Traffic Regulation Order – and this will present a further opportunity to formally support or object to the proposed changes in writing.