Chief executive and directors
Chief executive and directors
Our chief executive and directors are our most senior officers.
They are responsible for the day to day leadership and management of our services and are accountable for delivering the priorities set out within our Council Plan.
They work very closely with the leader and cabinet to ensure that the organisation understands and responds to the direction and leadership set out.
Chief executive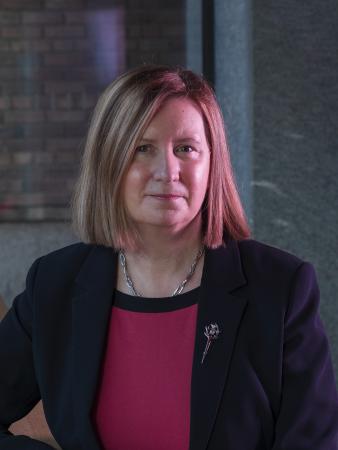 Our chief executive is Pam Smith.
Pam joined us as chief executive in January 2022, having been chief executive at Stockport Council since 2017. 
In her previous role she was also Greater Manchester's lead chief executive for the Age Friendly Greater Manchester partnership and she continues to be the Solace network's lead spokesperson for housing.
Pam was previously chief executive at Burnley Council and has also worked for the Audit Commission.
Pam joined us at a time of great change and opportunity as the city seeks to emerge strongly from the pandemic.
Pam is passionate about people, communities and neighbourhoods and is eager to work with residents and colleagues from across the region to achieve the best outcomes for the people of Newcastle.
Leveraging the opportunities that levelling up and devolution offer she is working to secure outstanding schools, excellent jobs and high-quality homes to make Newcastle one of the best places in the world to grow up, work and live.
If you would like to contact the Chief Executive please:
write to: Chief Executive, Newcastle City Council, Civic Centre, Newcastle, NE1 8QH
call: 0191 211 5001
Assistant Chief Executive
The Assistant Chief Executive directorate includes:
policy and research

communications and engagement

data and insights
Matt Wilton
Matt became Assistant Chief Executive in August 2022.
Matt joined the council in January 2020 as head of policy and then had interim leadership responsibility for the former City Futures Directorate from August 2021.
Matt has twenty years' experience of working in both local government and the private sector, with previous roles at Leeds City Council and Arup. He has a background in public policy and labour market economics.
Adult Social Care and Integrated Services
Adult Social Care and Integrated Services includes:
adult social care (including social work, safeguarding, learning disability and autism, and mental health)
day centres and short-term support
reablement
our Shared Lives service
our Active Inclusion service
Alison McDowell
Alison McDowell is our director of Adult Social Care and Integrated Services.
Alison started her career in Sunderland in 1997, as a social worker for older people. She maintains a strong belief that all older people should be:
properly valued and listened to

treated with compassion, dignity and respect at all times

cared for by skilled staff who

understand their particular needs and who have time to care
Educated at Newcastle University she gained an honours degree in theology and comparative religious studies before moving to Edinburgh University to complete postgraduate studies in social work.
Alison she is responsible for providing leadership in social care for adults within the city, ensuring that:
people with disabilities can live independent lives

effective support arrangements are in place for mental health related conditions

vulnerable adults at risk of abuse are safeguarded
Alison is passionate about creating and delivering excellent services for people who require care and support.
She leads on the change agenda for implementing new delivery models for the services, with a focus on:
ensuring that effective provision is maintained and improved

driving major transformational change to care models

promoting innovation

working towards enabling people to live their best life
An important aspect of her role, that Alison is fully committed to, is to champion the voice of people needing social care by ensuring that the services delivered are consulted on or co produced.
Alison is currently developing and delivering a coherent, integrated framework, in partnership with the NHS partners and other agencies, ensuring the most appropriate care arrangements are available.
Children, Education and Skills
Children, Education and Skills includes:
children's social care
education and skills
family support
Cath McEvoy-Carr
Cath McEvoy-Carr joined us in May 2022 as director for Children, Education and Skills.
Cath came from Northumberland County Council, where she had been Children's Services director since 2016.
Cath's career began with Sunderland City Council where she worked as a social worker during the early 1990s, before she moved to North Tyneside Council where she remained for ten years.
She then worked as an Ofsted inspector before joining Northumberland County Council.
At Northumberland she also had responsibilities for adult social care and duties as deputy chief executive.
Operations and Regulatory Services
Operations and Regulatory Services brings together some of the most visible services for residents, communities and businesses including:
street services (refuse collection, cleansing and grounds maintenance)
parking services
waste contracts
building maintenance and commercial works
civic management and facility services
community hubs and library services
regulatory services (including licensing and trading standards)
IT
legal services
democratic services
Christine Herriot
Christine Herriot is our director of Operations and Regulatory Services.
Christine has a strong track record of transformational leadership, including the implementation of organisational wide improvement and culture change programmes.
Christine graduated from the Open University in 2003 with an MBA. She manages a workforce of around 1700 staff.
Place
Our Place directorate includes:
planning

highways

property

housing

commercial services
Michelle Percy
Michelle Percy is our director of Place.
Michelle's role is to deliver a major change programme and shape our approach to becoming an enterprising council.
Michelle joined us as lead assistant director of commercial development in October 2016.
Prior to joining us Michelle played a leading role in a Newcastle based property company and the initial phases of the Stephenson Quarter – a 10 acre regeneration site next to Newcastle central station, containing several listed buildings, within a conservation area.
Given Michelle's background and experience in the property sector she took over the strategic property team in 2017 and then in 2018 all of the property services function to support the council's ongoing transformation of its assets.
In September 2019 Michelle took the role of director of Place.
Workforce and Inclusion
The Workforce and Inclusion directorate includes:
public health
human resources (HR)
organisational development
occupational health
equalities and wellbeing
Pam Perry
Our director of Workforce and Inclusion is Pam Perry.
Finance
The Finance directorate includes:
employee services and accounts payable

finance

internal audit, insurance and risk

procurement (non-social care)

revenues and benefits
Mark Nicholson
Mark was appointed as the council's Chief Finance Officer on 1 August 2022 and acts as the council's section 151 officer.  Prior to this Mark was the council's Assistant Director Financial Services, and he has worked for the council since April 2006.
Mark is a qualified accountant and prior to joining the council he worked for PricewaterhouseCoopers in Newcastle and the National Audit Office in London, where he completed his professional training.
Mark's directorate has both an internal and external focus.  The external focus is led by the Revenues & Benefits team, who collect council tax and business rates, and administer housing benefits and crisis support to vulnerable residents.  The rest of the directorate is focused primarily on supporting managers and staff across the council to effectively manage the financial resources delegated to them.
Mark is committed to providing an efficient and effective service to residents and council staff, and is always keen to receive feedback on how services in his directorate can be improved.  He also loves living and working in this great city, and is committed to making it an even better place to be.