To see Christmas opening hours for Community and Information Hubs and Libraries in Newcastle, please click here.
The theme of the Holocaust Memorial Day programme in 2017 is 'How Can Life Go On?'.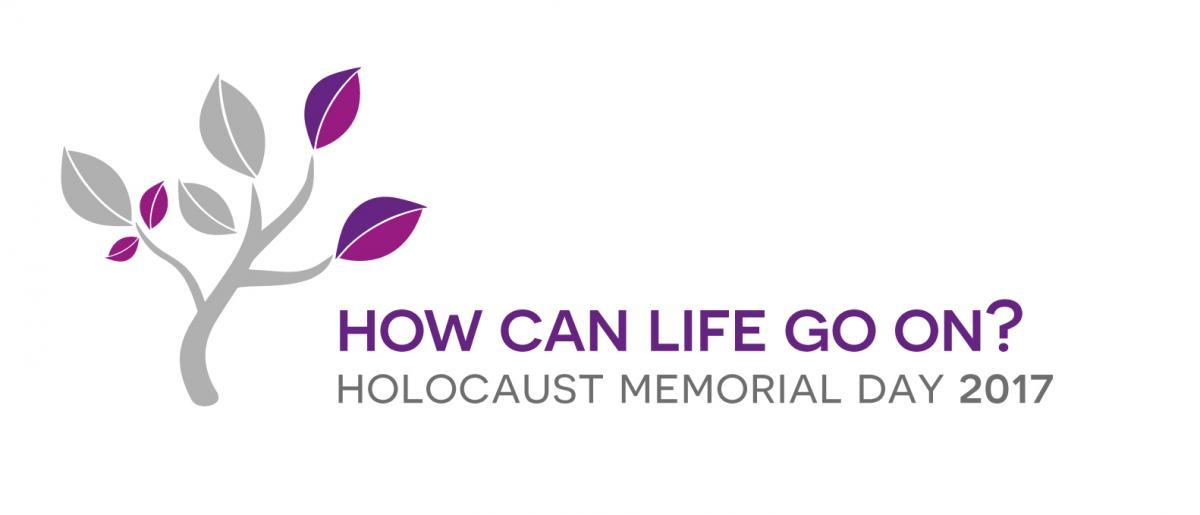 Newcastle's HMD programme runs throughout January and into early February. It encompasses a range of activities including films, exhibitions, lectures, concerts and performances. It provides opportunities to reflect on the persecution and suffering of the victims of the Holocaust and other genocides; to celebrate the fortitude and resilience of survivors; and to recognise the courage of those who intervened to protect and save them. It also provides us with opportunities to renew our commitment to preventing further genocides, to encouraging fairness, equality and inclusivity, and to defending the rights and freedom of all minorities.
The Holocaust Memorial Day programme is supported by the Holocaust Memorial Day Trust. Its chosen theme for the year is 'How Can Life Go On?' which encourages us to reflect on the daunting prospect that survivors of genocide face in re-building their lives after the atrocities have ended. We are particularly pleased, in this context, to welcome Ela Weissberger to Newcastle to participate in this year's programme. A survivor of the Holocaust who successfully re-built her life in Israel and the USA, her story is a remarkable one and we are grateful that she has so generously agreed to contribute to a number of events throughout the month.
Exhibitions
January/February
Exhibition: The Roma and the Holocaust
A Living Tradition
West End Library
An exhibition about the history and culture of the Roma people, including their persecution during the Holocaust; the terrible discrimination they face now across Europe; cultural artefacts from the Roma community; and reflections on the experience of members of the community in Newcastle and Gateshead. 
Monday 9 – Monday 30 January
Exhibition: Anne Frank: A History for Today
Anne Frank Trust UK
St. Nicholas' Cathedral
The exhibition explores Anne's short life against the background of the Holocaust and WWII. It encourages discussion about why the Frank family and others were forced to leave their homes to find refuge in Holland and further afield.
The exhibition is open to the public each day during Cathedral opening hours, except on Monday 9th, when it will open to the public at 1.30pm, and on Monday 30th, when it will close early, also at 1.30pm.
The Anne Frank Trust UK will run one-hour tours for the public and community groups every Monday. Tickets are free but advance booking is advised. Contact anya@annefrank.org.uk.
Monday 23 January – Sunday 5 February
Exhibition: Surviving Survival
Northern Cultural Projects
Level 3, Newcastle City Library
An exhibition of ceramic shoes made by Acklam Grange School in Middlesbrough, in response to Jenny Stolzenberg's famous piece 'Forgive But Do Not Forget' (London Jewish Cultural Centre). The shoes, copies of some of the thousands of shoes found in the death camps at the end of the war, return a sense of identity to the victims by rescuing them from their anonymity.
Until 26 February
Exhibition: Out of Chaos
A partner exhibition with Ben Uri Gallery, London
Laing Art Gallery
The exhibition contains a powerful group of pictures and sculpture by artists who were affected by the Holocaust, including George Grosz, Marc Chagall and Chaïm Soutine. Some lost their lives or members of their families. Others were concentration camp survivors, and many were forced to flee their homelands. The exhibition as a whole features themes of identity and belonging linked to migration, spanning more than a century, revealing the contribution of artists from around the world to Britain's cultural heritage.
Admission charges apply with concessions. Refugee card holders have free entry. See Laing Art Gallery Out of Chaos exhibition webpage
Events
18, 20, 25 and 27 January, 1pm
Workshops: Holocaust Memorial Day Artwork
Level 3, Newcastle City Library
Local artist Sally Southern will work with adults with learning disabilities to design and create a panel of hand-painted glass to mark Holocaust Memorial Day.  The group will examine imagery relating to the Holocaust and discuss its importance, share ideas, thoughts and drawings that will come together to form one large piece.  The finished panel will go on display at the City Library.
Book free online.
Tuesday 24 January, 5pm
Lecture: 'Mir zenen do': Jewish communities' cultural activities in the immediate aftermath of the Holocaust'
Ian Biddle (Newcastle University)
Bewick Hall, Newcastle City Library
Many studies of the Holocaust have focused on the enormity of the death count, the unprecedented brutality and systematic nature of the murder, and the horrific living conditions inflicted on victims in the run up to their murder. This lecture does not seek to erase that story. But in the immediate aftermath of the Holocaust, in the first few years after liberation, victims of the Holocaust sought to mend their communities, and to bear witness to what had been lost. The lecture looks at a range of cultural activities (music, art, literature, drama) undertaken in particular by Yiddish-speaking Jews in the displaced persons camps and elsewhere and shows some of the ways in which Jews were able to continue to live as cultural beings after the devastating brutality of the shoah. Book free online
Tuesday 24 January, 7.30pm
Film: Fateless (2005)
Representative Council for North East Jewry
Council Chamber, Civic Centre
14 year old Gyorgy's life is torn apart in WWII Hungary as he is sent to the concentration camps at Auschwitz, Buchenwald and Zeitz, where he finds camaraderie, cruelty, suffering and death; discovers hatred and receives advice on the preservation of dignity and self-esteem. A coming-of-age film which explores what it means to be Jewish. Sepia, black and white, and colour alternate to shade the mood.
Based on the semi-autobiographical novel 'Fatelessness' by Imre Kurtz, by whom it was also adapted for the screen 'Fateless' features a cameo performance by Daniel Craig, who plays a United States Army sergeant, and music by Ennio Morricone.  Book free online
Wednesday 25 January, 7.30pm
Film: No Home Movie (2015)
Council Chamber, Civic Centre
Northern Pride​
A French-Belgian documentary directed by Chantal Ackerman, the film consists of conversations between Akerman and her mother Natalia, a survivor of Auschwitz. Filming took place on a small hand-held camera and a Blackberry over several months. Her mother died at the age of 86 in April 2014, shortly after filming ended.
"An extremely intimate film but also one of great formal precision and beauty, one of those rare works of art that is both personal and universal, and as much a masterpiece as her 1975 career-defining "Jeanne Dielman, 23, quai du commerce, 1080 Bruxelles" New York Film Festival.  Book free online
Thursday 26 January, 12.30-1.15pm
Talk: The Psyche, the Artist, and Aesthetics as Spaces of Refuge
Laing Art Gallery, Function Room
£4, students and refugee card holders free
Dr Gafijczuk (Lecturer in Sociology, Newcastle University) will examine the relationship between art, aesthetics, and the notion of seeking refuge, which may be physical but just as importantly, psychological. The talk reflects on Freud's early attempts at stabilizing the chaos of modern culture, related to artists in the Out of Chaos exhibition.
Thursday 26 January, 6pm
Holocaust Memorial Day Commemorative Event
Herschel Building, Newcastle University
Newcastle University Jewish Society
Newcastle's annual commemoration event for victims of the Holocaust, hosted by Newcastle University Jewish Society.  Book free online
Saturday 28 January, 6pm
Film: A People Uncounted
A Living Tradition
Council Chamber, Civic Centre
The Roma faced annihilation during the Nazi Final Solution but have been relegated to a footnote in history. Today, they are victims of extreme and often violent racial persecution. 'A People Uncounted' is a powerful exposé of the tragedy of Europe's largest minority group.  Book free online
Monday 30 January, 2pm
Performance: Surviving Survival
Northern Cultural Projects
Atrium, Newcastle City Library
Pupils from Excelsior Academy present a performance based on survivors' testimonies that reveals similarities with the traumas and difficulties faced by victims of genocides today.
Pre-performance talk by Marta Josephs, the daughter of a Holocaust survivor, about contemporary anti-Semitism.
Ela Weissberger will speak about her experience of imprisonment in Theresienstadt concentration camp in Terezin, Czechoslovakia.  Book free online
Monday 30 January, 7pm
Brundibár Arts Festival, Festival Opening Concert
Kings Hall, Newcastle University
Artists: Katya Apekisheva, Simon Wallfisch, members of Royal Northern Sinfonia
Pre-concert address by Ela Weissberger
Programme:
M.Weinberg Piano Sonata No.2
E.Schulhoff Concertino for Flute, Viola and Double Bass
M.Weinberg 12 Miniatures for Flute & Piano
V.Ullmann Drei Lieder (Baritone and Piano)
H.Krása Passacaglia and Fugue for String Trio
Tickets: £5 (£3 concessions; U26s free)  Book online
Concert kindly supported by Cavatina for under 26s.
Tuesday, 31 January, 7.30pm
Brundibár Arts Festival
A Walk Through the End of Time - A play by Jessica Duchen
Caedmon Hall, Gateshead Central Library
Artists: Joy Sanders, Phil Harrison, Kyra Humphreys, Jessica Lee,
Liubov Ulybysheva, Yoshie Kawamura
Based on fictional events surrounding Messiaen's "Quartet for the End of Time", the play pays tribute to the enduring power of art, love and the human spirit.
Followed by a complete performance of the Quartet.
Tickets: £7 (£5 concessions)  Book online
Wednesday 1 February, 6pm
Commemorative Event: The Roma and the Holocaust
A Living Tradition
Riverside Health Centre, Atkinson Road, Benwell.
Half a million Roma and Sinti were brutally murdered by the Nazis during the Holocaust, which is known amongst the Roma community as Porajmos – the Devouring. The community survived and life goes on.
An event with testimonies, personal stories, music and refreshments provided by the Roma community of Newcastle and Gateshead.  Book online
Thursday 2 February, 5pm
Lecture: 'How can Life Go On?' - Ela Weissberger
Bewick Hall, Newcastle City Library
This event has now been cancelled.
Sunday 5 February, 10.30am onwards
Brundibár Arts Festival, Klezmer Pop-Up Day
HorovoD
Toe-tapping Jewish folk music; perfect for families. You're guaranteed to struggle to keep your feet still.
10.30am - Arch 16 Cafe
11.30am - Lit and Phil
1pm - Sage, Gateshead
2.30pm - Newcastle City Library
All performances are free. No booking required.
Monday 6 February, 7pm
Brundibár Arts Festival
Righteous Among the Nations
Alphabetti Theatre, Newcastle
Artists: Iona Brown, Alexandra Raikhlina
Exhibition and documentary about Chiune Sugihara, the Japanese diplomat, often called the "Japanese Schindler", who saved 2,000 Jews during the Holocaust, earning him the title "Righteous Among the Nations".
 
The showing will be preceded by a performance of Rocking Mirror Daybreak by Japanese composer Toru Takemitsu, in honour of Sugihara.  Book free online
Tuesday 7 February, 7.30pm
Brundibár Arts Festival, Festival Closing Concert
Brunswick Methodist Church, Newcastle
Artists: Natalie Clein, Jack Liebeck, Krzysztof Chorzelski
and members of Royal Northern Sinfonia
Programme:
J.Brahms String Sextet
E.Schulhoff String Sextet
A.Schoenberg Verklärte Nacht
Frederick Viner
 Festival Commission
Tickets: £10 (£8 concessions; U26s free) Book online
 
Concert kindly supported by Cavatina for under 26s
Thursday 23 February, 12.30-1.15pm
Talk: Diaspora and post-war painting
Laing Art Gallery, Function Room
£4, students and refugee card holders free
Stephen Moonie (Lecturer in Art History, Newcastle University) discusses issues of Jewish identity and displacement in relation to the painting of the post-war period, including important works by R B Kitaj, Leon Kossoff and Frank Auerbach.
Interview with Holocaust Survivor Sandor Vandor interviewed by Hannah Wilson from Nottingham University.
In 1944, Nazi Germany occupied Hungary. Sandor was 19 years old. He was a Hungarian Jew. Seven decades later, Sandor was asked 'How Can Life Go On?'
View the highlights with subtitles
View the full interview with subtitles
Recommended reads
Further reading and resources available.