1 December 2020
| | 3 min read
Christmas shoppers urged to steer clear of congestion and queues this December
Shoppers are being asked to steer clear of congestion and queues when lockdown restrictions end this week.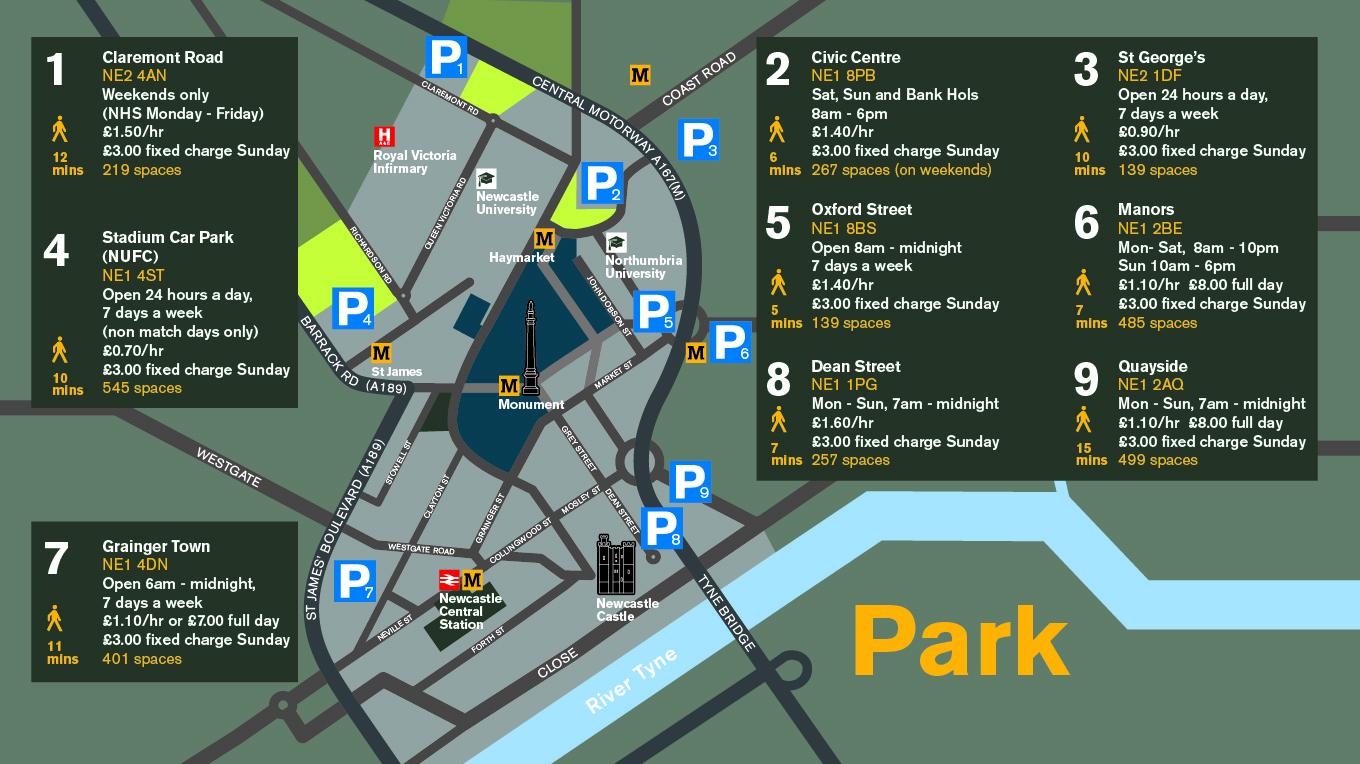 National coronavirus restrictions have meant all but essential retailers have had to remain closed since 5 November.
But with retailers preparing to reopen their doors when lockdown ends on Wednesday, Newcastle City Council is advising people to expect the city centre and the main car parks on Percy Street to be very busy.
The warning comes as coronavirus rates in the North East remain above the national average, with Newcastle placed under the highest tier of Covid restrictions from Wednesday.
To help avoid overcrowding in the city centre shopping areas and reduce traffic  congestion on key routes, people are encouraged to think about the timing of their journeys and, if they are driving, where they park.
Information on how busy the city centre is, along with which car parks have spaces, their postcodes for sat nav and walking distance from the main retail centre, will be available to help people plan ahead and decide when to shop. 
Electronic road signs will also provide up to date travel and parking information at key points to enable drivers to change route in time to reach an alternative car park.
People are being urged to avoid busier times when there's a risk of overcrowding and are reminded of the need to continue to follow guidance on social distancing and wearing face coverings.
With more people expected to be out shopping in the lead up to Christmas, City hosts will be back on Northumberland Street to help and encourage people to follow the markings on the street and maintain social distancing. People are also reminded that there may be fewer toilet facilities available with bars, cafes and restaurants being closed other than for take-away, collection or delivery service.
Those planning to drive into the city centre are being asked not to make a beeline for the main car parks on Percy Street and to instead use one of the less busy car parks. People are also advised to use the taxi ranks on Hood Street and Shakespeare Street to reduce vehicles in the Percy Street area and help keep bus services moving from the Haymarket and Eldon Square bus stations. 
Information on how busy city shopping areas and car parks are is available at www.howbusyistoon.com, which has now been updated to also include links to information on Covid measures in place in shops and other premises, safety information and public transport details.
Cllr Arlene Ainsley, cabinet member for transport and air quality at Newcastle City Council, said: "Every year we see gridlocked traffic around the car parks on Percy Street even though there are spaces in a number other city centre car parks with good access to the main shopping area.
"This year, with people having been unable to shop for the last four weeks and with reduced capacity on public transport on top of the normal pre-Christmas rush, we are expecting demand to be even higher and the health implications of this could be very serious.
"Coronavirus has not gone away, and with many people now able to plan a Christmas with their extended families, it is vital that we take all possible precautions to limit the chances of this virus spreading over the winter.
"We must avoid overcrowding and that includes avoiding everyone heading towards the same car parks – not only because of the risk of the virus spreading but also to avoid the traffic congestion that can develop and that brings the city to a standstill.
"There are around 10,000 parking spaces in the city centre and many remain empty even while people sit in queues outside a full car park on Percy Street.
"So if you can walk an extra few minutes to get to the shops, parking somewhere that's close to your route in and where you don't have to queue means you'll save time in the long run, making your journey in and out of town much quicker and safer.
"We know this is a busy time of year and we are asking people to think carefully about their journey, about the time of day they travel into town and about where they park as we all continue to do our bit to beat coronavirus."
As well as parking in one of the least busy car parks people are also encouraged to use contactless payment methods – such as pay by phone – where possible.
Additional cleaning throughout city council car parks is taking place to keep people safe and parking staff will be directing drivers at the main multi-storey car parks to help them to find a space as quickly as possible.
Alternative car parks, which are all between five and 15 minutes' walk from the main shopping areas, include Grainger Town, Oxford Street, Dean Street, Manors, Quayside, Claremont Road, St Georges', Civic Centre and Stadium (NUFC).
There are seven multi-storey car parks which are part of the Alive after Five scheme, which means people can park for free after 5pm Monday to Saturday.
The seven multi-storeys which are part of Alive after Five are Grainger Town, Eldon Square, Eldon Garden, Oxford Street, Dean Street, Manors and Quayside car parks.