9 December 2020
| | 3 min read
Social distancing measures to remain on Gosforth High Street
Temporary measures to improve social distancing, with re-allocated road space for better walking and cycling, and better transport links along Gosforth High Street are to be retained Newcastle City Council has confirmed.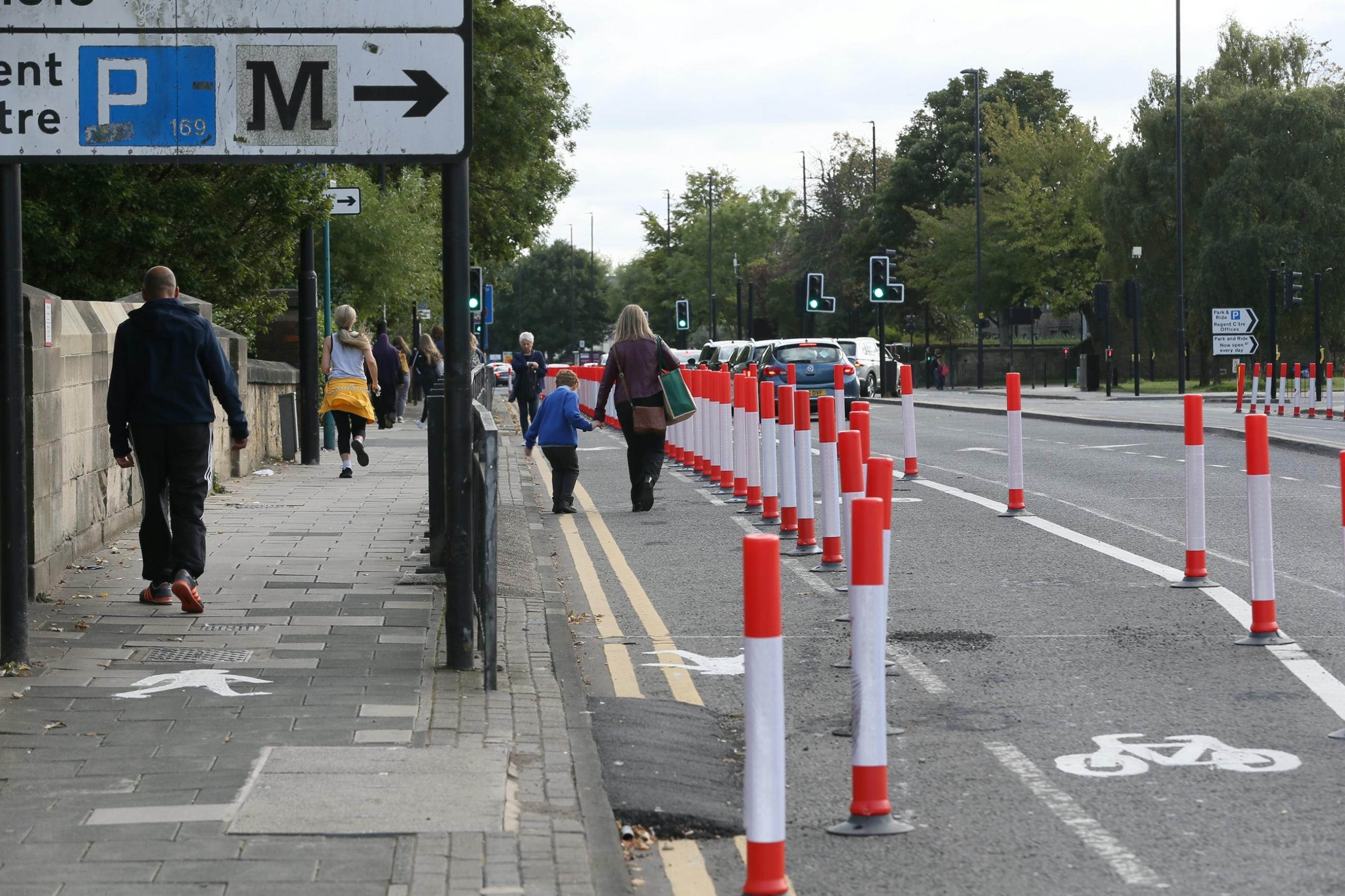 The council installed some temporary measures over the summer which included widened pavements to allow for queuing outside shops, with one of lane of traffic removed to allow for a cycle lane to meet the rising demand from residents for better walking and cycling facilities in one of the busiest local high streets in the city.
Following a review of the scheme with local councillors, which included input from emergency services, bus operators, businesses along the High Street and feedback from residents, the council has decided to keep the scheme in place though some measures will be altered in response to feedback.
The temporary measures will remain in place until another review takes place early in March. If people have views on the long-term future of Gosforth High Street or on the temporary measures – the council's online consultation portal remains open for people to be able to leave comments.
Cllr Arlene Ainsley, cabinet member for transport and air quality at Newcastle City Council said: "Gosforth High Street is an incredibly busy location and we put a number of measures in place to help people shop safe and shop local in response to the COVID-19 pandemic. This included more space for social distancing, and re-allocation of road space so we could improve walking and cycling facilities as well as make sure we protected a key public transport route to the city centre.
"As with all changes, they needed time to embed before we could fully assess their impact on how well they work for local people accessing the area safely, whether on foot, on bike, by public transport or by car. As part of this, we held a review which looked at many factors and incorporated feedback from people using the area, as well as how well buses were running. Our team asked local traders what they thought of the scheme, as well as looking at journey times, congestion and air quality levels.
"We're aware there has been some talk in the local area about the measures impacting on emergency services' response times, and I would like to fully reassure residents that this is simply not the case. We are in regular dialogue with all key services and they have not brought any issues to our attention. If they had, we would have addressed them, which is what we have done by making changes on Queen Victoria Road in the vicinity to the RVI in direct response to feedback from the North East Ambulance Service.
"Although there is some disagreement on the measures from people who perceive longer journey times for making short local journeys in private car, the review panel has decided that the benefits to people's health and the local economy far outweigh the criticisms, and we will continue with the scheme to create safer, cleaner and greener neighbourhoods."
The measures on Gosforth High Street include four-metre pavements along each side of the High Street to allow for social distancing and queuing at local shops, wider waiting areas for bus passengers, road space re-allocated by using one lane for cycling, additional crossing facilities and better links between the two main shopping areas.
As well as having tweaked traffic signal sequences to allow buses better access to the Regent Centre, the council also intend to improve the measures by making it clearer that the central section between Hawthorn Road and Salters Road is for people to walk, not cycle.
The scheme was put in place following instructions from government for councils to improve walking. and cycling in local areas as part of the Emergency Active Travel Fund. The council installed several schemes including in the city centre and near the Royal Victoria Infirmary, as well as the introduction of low traffic neighbourhoods with the closure to vehicles on five bridges in residential areas.
Highways teams will be on site over the coming weeks to make the changes and the review  is available here