17 November 2021
| | 3 min read
Newcastle's Christmas 2021 plans revealed
It promises to be a Christmas to be remember in Newcastle as the full festive programme is revealed.
Please note: For the latest information about Christmas events please see our Christmas in Newcastle pages.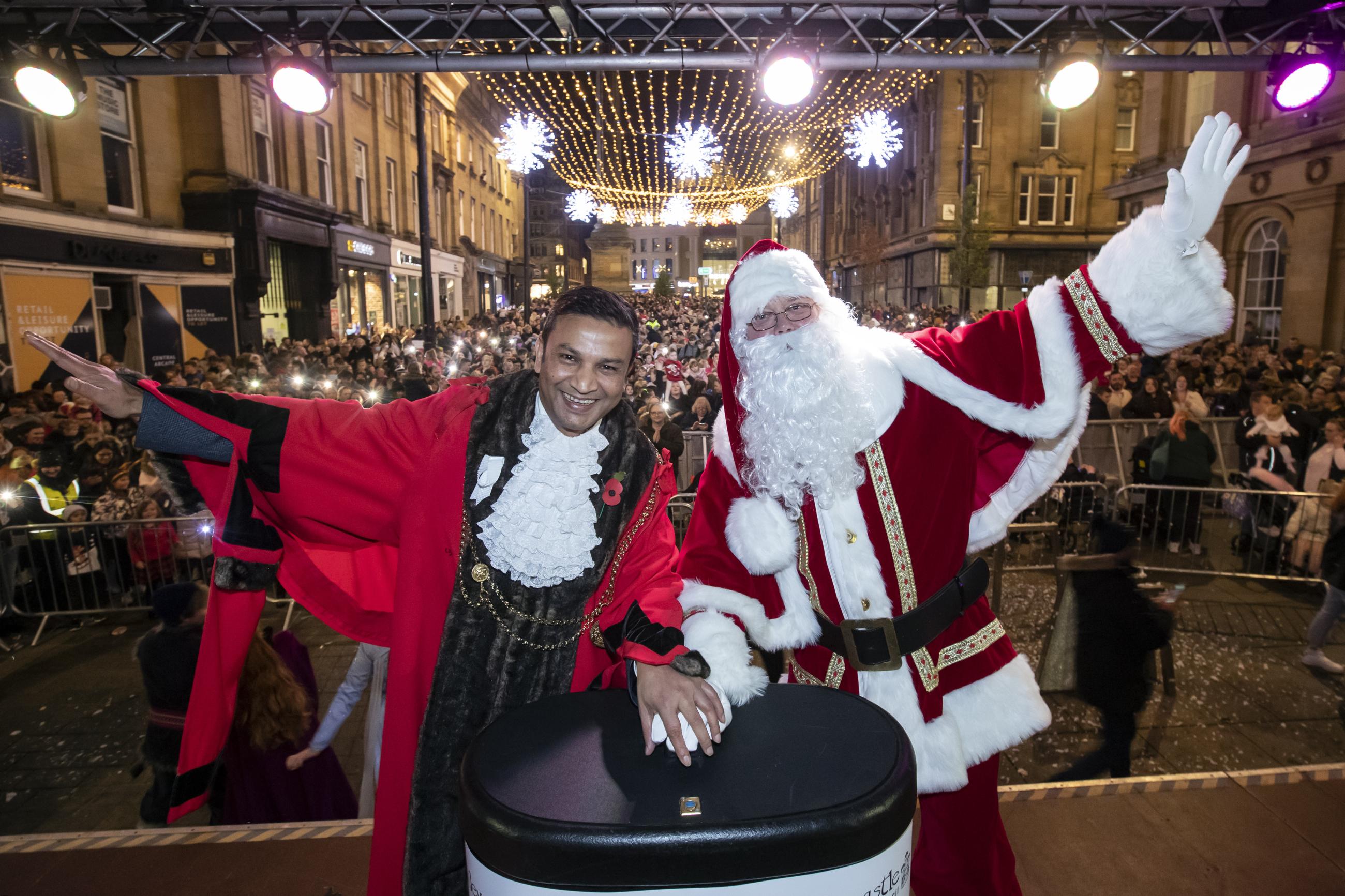 With Christmas celebrations halted last year due to the pandemic, the council, NE1 and partners are transforming the city into a Winter Wonderland to bring the festive cheer back.
There's something for everyone in this year's Christmas programme, from Santa's Grotto, markets, shopping, laser lights and a spectacular fireworks display to round off the year.
As Covid is still with us, precautions are being taken and people are asked to consider wearing a face mask in crowded places. People are also urged to test for Covid and stay at home if they have tested positive or displaying symptoms.
The events will be a much-needed boost to the local economy, attracting thousands of visitors to the city where they can take advantage of the fabulous offer.
Cllr Ged Bell, Cabinet Member for Development, Neighbourhoods and Transport said "It's going to be a Christmas to remember in Newcastle. After months of lockdown and last year's cancellations, we're delighted to provide a wonderful festive experience for everyone to enjoy.
"The events will bring some much-needed festive cheer and we look forward to welcoming visitors into the city to enjoy our fabulous offer.
"We want everyone to enjoy the festivities but in a safe way. Covid is still with us so consider wearing a mask in crowded places and stay home if you have tested positive for Covid or are displaying symptoms."
Stephen Patterson, Chief Executive of NE1 Ltd said "Excitement is building. 2021 promises to be a Christmas we'll remember for the right reasons, with a welcome return to in-person events and celebrations in the heart of the city centre. Newcastle will look and feel suitably festive and with a strong local feel – with creative, festive designs in empty shop windows to in-person events and activities designed to appeal to young and old alike.  We're delighted that the Christmas market will have a strong local flavour which reflects the growing public desire to shop and support local business and enterprise and it is great news that the Grainger Market will extend its opening hours.  We will also be announcing some free, fun things to do in the run up to Christmas, that will offer something for everyone to enjoy.  It is all shaping up to be a fabulous festive season."
Here are some of the events taking place in the city: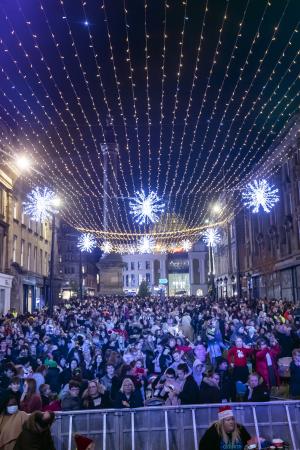 Newcastle Christmas Lights
It's not Christmas in the city until the big light's switch-on.
Metro Radio's Steve and Karen once again hosted the event that marks the official start of the festive celebrations in the city.
It featured live music, street theatre and on stage competitions which included the announcement of Metro Radio's key worker competition.
The event took place on Grey Street which included a visit from the Lord Mayor, Panto Stars and Santa who flew in on his sleigh from Lapland.
The Christmas lights will illuminate the city throughout the festive season.
Grainger Market Santa's Grotto
Add a little magic to the festive season with a visit to see Father Christmas in his Grotto at Grainger Market.
Bring your little one along for a special meeting with Santa! What better way to start off your festive season than the chance to let Santa know what you most want this Christmas?
There will be elves making sure the smooth running of this Grotto.
Santa will be at Grainger Market from Monday 15 November until Christmas Eve. Tickets can be purchased from https://graingergrotto.eventbrite.co.uk
Christmas Markets
You know Yuletide is just around the corner when the smell of sizzling bratwurst and mulled wine fills the city centre streets.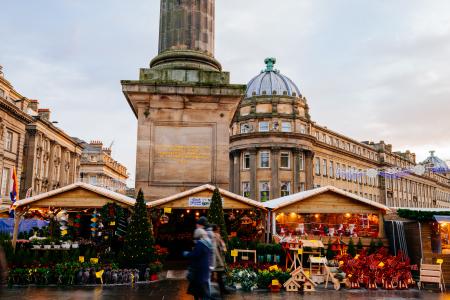 2nd of December will see the popular Christmas Market return to the city centre.
Around 30 Christmas market stalls will be set up around Grey's Monument to create a Winter Wonderland.
Local traders have been given the opportunity this year to bring something special and make it a Christmas to remember.
To apply for a market stall, please email NewcastleChristmasMarket@newcastle.gov.uk
Ice Skating at Times Square
The open-air ice rink is making a welcome return to the Life Science Centre to get people in the Christmas spirit.
The ice rink is back this festive season from November 13 to January 9.
Whether you're a beginner or expert, you can take the rink under the beautiful multi-coloured lights.
Quayside Market
The famous Quayside Market will be open on Saturday as well as Sunday from 9am to 4pm in the run up to Christmas.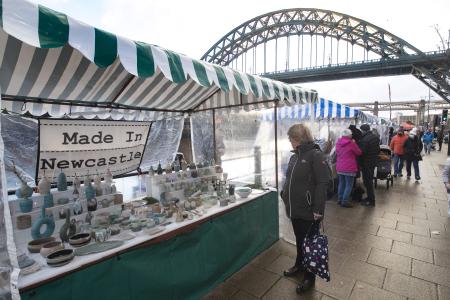 Immerse yourself in the vibrant street market that stretches from the Swing Bridge to the Millenium Bridge along the River Tyne, with independent traders selling handcrafted goods, local products and street food.
The Quayside Market has a long history dating back to 1736 when it was first recorded in historic records as a fair. The original Quayside market stretched from the old Tyne Bridge (near the site of the current Swing Bridge) along Sandgate and beyond. Commercial stalls selling every manner of goods were pitched along the riverside with a variety of fairground attractions and racing tipsters providing added entertainment.
Christmas Tree switch-on
The Bergen tree will once again be part of this year's Christmas celebrations in early December. For over 70 years we have received a gift of a Christmas tree from the city of Bergen in Norway to symbolise the city's gratitude to Newcastle for its support and friendship during the second world war.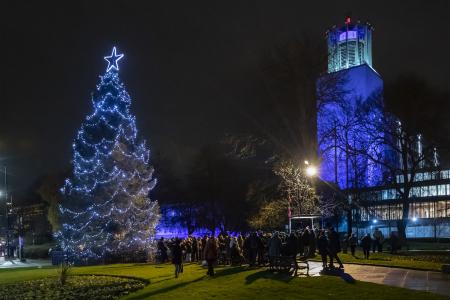 Grainger Market Sunday opening and late-night Thursdays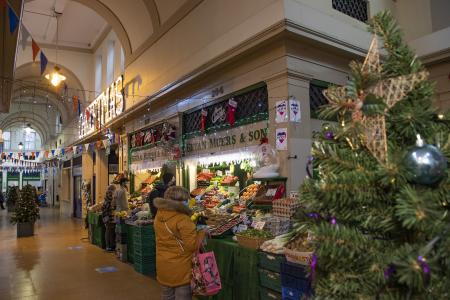 Great news for festive shoppers as the much-loved Grainger Market is set to open on Sundays and open till late on Thursdays.
From 28 November, the Grainger Market will be open from 11am till 4pm every Sunday until 19 December.
And late night on Thursday 2, 9, 16 and 23 December from 9am to 7.30pm.
Head down for locally inspired beautiful fresh produce that will make this Christmas truly special.
Laser Light City
This New Year will see a stunning laser lights fill the night skies across the city. The council, NE1 and BAFTA award-winning artist Seb Lee-Delisle are working together to bring an interactive laser installation from 30 December to 1 January.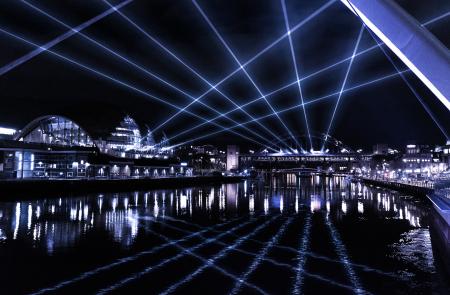 The dramatic installation will light up the night skies across the city and its suburbs heralding in the New Year.
The high-powered lasers will be installed at three key locations across the city; the Quayside, Hadrian's Tower and the Civic Centre, making them visible to people within a ten-mile radius of the city centre, weather permitting.
The public will be able to take turns to curate the laser light show from their smart phones via the Laser Light website that will be going live nearer the time, details can be found at www.laserlight.city/newcastle.
New Year's Eve Fireworks
Rounding off 2021 will be a double fireworks extravaganza on the Quayside on December 31.
What's become a tradition in Newcastle, the spectacular shows will take place on New Year's Eve at 6pm to suit families then a second show at midnight. People are advised to get there early to grab a good vantage point.
Listen to live music and enjoy the spectacle as we say goodbye to 2021 and start 2022 with a bang!          
NE1 Christmas Events and Activities Programme
NE1 will be unveiling its Christmas events and activities programme over the coming weeks which will include a number of festive favourites. The team at NE1 is already working on its NE1 Christmas Windows, which was launched, to great acclaim, for the first time last year.
To bring some extra festive cheer into the city centre, a competition has been launched to encourage budding artists, designers and creatives to submit festive inspired designs to grace windows of prominent sites across the city. Winning artwork will be rewarded with a £250 prize together with the opportunity to have their designs showcased in the city alongside work by commissioned artists, design agencies and local school children. The deadline for entries is Monday 15 November.
Other NE1 events, including free activities suitable for young and old, will be announced in the coming days. 
For details of all the festive fun happening in Newcastle, visit NE1's online Christmas directory; www.newcastlechristmas.co.uk.