21 April 2020
| | 2 min read
Celebrate World Book Night on the 23 April with Newcastle Libraries

World Book Night is a national celebration of reading and books that takes place on 23 April every year. Up and down the country, individuals and organisations celebrate the difference that reading makes to people's lives, and everyone from publishers to librarians, and local businesses to the general public can get involved.
World Book Night is run by The Reading Agency a national charity that tackles life's big challenges through the proven power of reading.
Connecting a nation in self-isolation. World Book Night 2020 is going digital, as plans changed due to Covid-19 and the nation is encouraged to share in pleasure of enjoying a book – in print, or in audio.
Newcastle Libraries are joining in the celebration...
World Book Night 500 words short story competition!
In celebration of World Book Night, Tyne Bridge Publishing author Tricia Coxon has written the first part of the story Train Letter To... So it's time to get those creative cogs turning and complete the story in 500 words. Competition opens on 23 April.
How to enter. Please email entries to information@newcastle.gov.uk  Closing date 21 May 2020. The winning entries will feature in a publication published by Tyne Bridge Publishing!
World Book Night

Quiz!
Try our quick quiz and test your literary knowledge! Hope you do well and let us know your score. Answers will be published on Facebook and Twitter on Friday 24 April .
World Book Night

Reading Hour 7pm to 8pm #ReadingHour
This World Book Night, we're asking the nation to join in the #ReadingHour from 7-8pm on 23 April. This is a time to dedicate to reading, in any form!
You can: 
read alone

listen to an audiobook while preparing dinner

read to children before they go to bed

hold a virtual reading group meeting

call a friend to chat about books

anything else you want (but it must be about books)!
We also want everyone to share their reading experiences, letting us know what they're doing on social media so we can all share our reading together.
Happy World Book Night!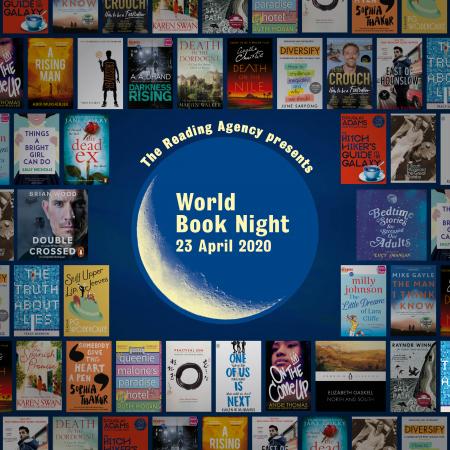 The Reading Agency has also created a suggested booklist to inspire people to get into reading. This can be viewed here.
To borrow an eBook or eAudiobook from Newcastle libraries people will need to download either the RBdigital or Borrow Box app onto their smart phone or other device. Anyone wanting to get an eComic or eMagazine will need to use the RBdigital app.
From there they can sign into the Newcastle Libraries service using their membership number. If you are not already registered, you can do so here.
Using the app people can borrow, renew or return items and can borrow up to five titles at a time.
For more information about borrowing electronic books, magazines, comics and audiobooks visit: http://tiny.cc/toonEbooks
@WorldBookNight

@readingagency

#WorldBookNight

#ReadingHour

@toonlibraries